People dream up the exceptional and vast beaches when someone remarks Goa. But Goa is surely more than these amazing sea and beaches. It is also adorned with the diverse landscape as it is stationed in Sahyadri hills. Book cheap hotels in Goa and relish this amazing place!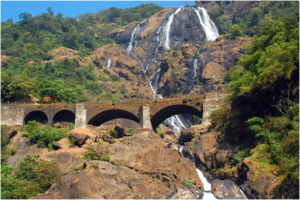 In Goa, there are several big and small mountains, from where springs, streams, and alluring waterfalls crop up. There are not too many waterfalls, but surely all of them are worth stopping in Goa. Enveloped by rocks, sanctuaries, and greenery, these waterfalls provide another face to Goa, building it an all-rounder in case of touristy.
Below mentioned are the most spectacular and most beloved waterfalls in Goa that will eventually make you gawk and swoon with astonishment.
Dudhsagar, located on the border of Karnataka-Goa is surely the finest and the most alluring waterfall in Goa. Dudhsagar interprets to 'sea of milk' and from a height of around 130m the water that plunges mirrors just that. It exclusively derives from the River Mandovi. It appears as if a huge bucket of milk has been splashed from above. It is exclusively the fifth biggest waterfall in the country, and the surrounding greenery makes it all the more appealing and attractive.
Hivre Falls
Stationed on a hilly area in the village of Hivre, which is approximately 14 km away from the city of Valpoi, Hivre falls provides a magical view, unseen amidst incredible adorableness. It eventually takes a high trek to experience the waterfalls and is a famous trekking spot as well. The ideal time to trip Hivre falls is during the months of monsoon, i.e., around June to September.
Harvalem Waterfalls
The Havalem Waterfalls is located at a stretch of around 2 km from the town of Sanquelim in North Goa. It is an imposing fall as it splashes from the elevated mountains and exclusively falls from an altitude of 50 m. Harvalem waterfalls is also a famous destination for a picnic as it is enveloped by an incredible landscape. The famous and revered Rudreshwar temple is also close to making the destination all the more attractive.
Sada Falls
Reaching up to the Sada falls is an interesting practice in itself. You will ultimately have to go across a stream to visit the foundation. Station in the ghats of Chorla, Sada falls lie at a stretch of approximately 8 km from a small town in the region. When you walk across the streams breathing in the refreshing and fresh air, you will listen the spouting sound of the water and as your end your walk, you will acknowledge the water falling from a height amid two mountains, an exceptional view.
Kuskem Waterfalls
Stationed in Canacona district in South Goa, Kuskem waterfalls is located near the village of Kuskem, exclusively after which it is named. The water falls from a peak through rocky hills, and as it closes the basement, it becomes transparent and clear water. The ideal time to reach there is either during monsoons, or just after that, as while summers, not much of the Kuskem waterfalls is visible as it dries away.
TambdiSurla Falls
Any trip to TambdiSurla falls is ultimately quite fun and courageous as it is through the wildlife Sanctuary of Bhagwan Mahavir. The waterfalls exclusively from a peak of the hills and eventually makes its way. It is an amazing experience to consider the spouting waters flowing in peace between lush bushes and green trees. Another amazing spot of the place is an antique Shiva temple regarded as having been constructed in the 15th century.
Netravali Falls
You will have to exclusively trek through waters to visit Netravali falls. It is exclusively within the Madei wildlife sanctuary, and it is stretch approximately 215 sq km at Sanguem Taluka. The entire region was enveloped under the sanctuary to secure it and to hoard the Western Ghats. There is a hill point from where everyone can relish a proper view of the beautiful falls as well as the ambience.
So what are you waiting for, pack your backpacks!