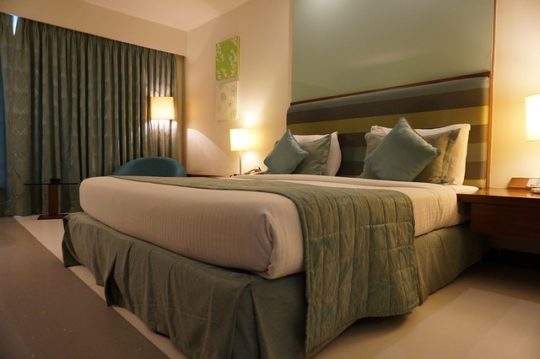 Cleaning on a regular basis is the best way to keep a house clean. A cleaning routine ensures that all parts of your house are cleaned and maintained. Instead of waiting to make money with spring cleaning, a daily routine also prevents bigger cleaning problems while they are manageable. A checklist can be a great tool to create an efficient cleaning routine. As a homeowner, a streamlined routine will help you keep the house clean. To get started, here is a house cleaning checklist for your routine.
Make The Beds
A great starting point for any regular cleaning checklist is making the bed. While it might seem like a very simple act, making your bed starts your day right. Especially if you know how to make your bed quickly,it makes the bedroom look tidier with a minimal amount of effort. When you bed is made, you are less likely to get back into bed throughout the day. Moreover,it makes cleaning the rest of the room much easier. You can easily place clothes and other personal belongings on the bed while organizing the bedroom.  Making your bed is a great place to start with the checklist. It will get your cleaning momentum going for more.
Wipe Down The Bathroom
Next, move on to the bathroom. A bathroom needs daily attention to keep it clean. Inspect all the frequently used areas, including the sink, facets and surfaces. Giving these areas a quick wipe down can keep your bathroom looking clean. Additionally, it will lower the spread of germs within your home. After the basics, you should also inspect the shower and toilet. If needed, use your toilet wand to get the job done. While these areas don't need to be cleaned every day, you can take a proactive approach to head off a lot of mess that will be hard to clean later on. A few minutes cleaning the bathroom each day will save you hours of scrubbing on the weekends.
Clean Kitchen Counters
As part of your house cleaning checklist, it's important to clean your kitchen counters. These counters are some of your most used surfaces. If you cook often, food could end up on the counters. You would want your kitchen to be as clean as possible so that you can cook regularly. More so, preparing food can produce all sorts of bacteria and germs that pose a risk to your family's health. Certainly, keeping your kitchen counters clean and disinfected will ensure that the kitchen is ready for cooking anytime.
Sweep Or Mop The Floors
After taking the essentials, cleaning the floors should be next on your checklist. Whether you have hardwood, tile or carpeting, floors become dirty on a daily basis. In any home, day to day living activities cause floors to collect a lot of dust, dirt, and debris. Too much dirt and debris could create unhealthy conditions like mold or rodents.According to Amazon Cleaning, a house cleaning service in Atlanta GA, "All floors should be vacuumed and mopped with appropriate house cleaning agents." While daily floor cleaning may seem excessive, you should take the time to do a quick sweep or mop. If you notice that the floors are mostly clean, check in corners and along the walls. By cleaning your floors regularly, you will have a safe and healthy living environment.
Declutter Your Living Space
Add a point to your checklist to declutter your space. Especially in the living room, it's easy to leave a jacket on the sofa. Or, to put the mail on the coffee table. Put away any clothing or toys that are laying around. In these cases, take the time to declutter all the smaller items in your main living areas. This will give you a sense of cleanliness and clarity while at home. Moreover, it will get you into the habit of cleaning out unnecessary items that do not add value to your life. Declutter your spaces as part of your daily cleaning checklist.
Finally, your checklist should include these points. Start by making your bed. Then, move into the bathroom, wiping down the main surfaces. If you cook often, take care of cleaning the kitchen counters. Next, hit the floors and declutter your living spaces. If you can't get to everything in one shot, create some time the following day to handle any missed duties or unexpected tasks. With these points, your daily checklist will cover your house cleaning.