Montessori programs are very popular with parents today because of their emphasis on child-specific learning, creativity, and self-discipline, but not everyone has access to a formal Montessori program. Even without sending your child to a Montessori school, though, there are many ways that parents can facilitate Montessori-style learning at home. These 5 simple strategies can provide valuable enrichment, as well as exciting opportunities for your family to play and grow together.
Prioritize The Practical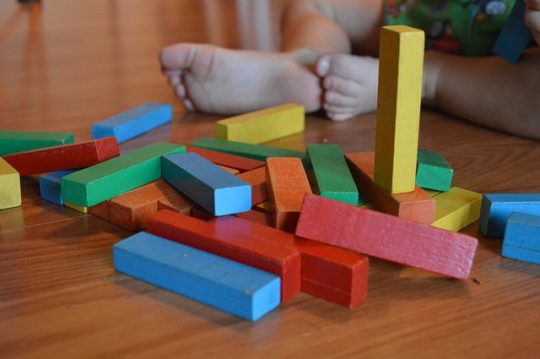 One of the things parents appreciate most about Montessori-style education is the ways in which children are encouraged to take responsibility for their belongings, space, and needs. In order for this to be possible, though, children need access to materials that are just their size and opportunities to practice those activities through play.
Provide your children with play versions of practical life skills, such as tubs for washing cups and plates in, a small broom and dust pan, child-size cups and pitchers, and trays. It may not seem like fun to you, but if you've ever watched a child clamor to help in the kitchen, you know how interested they are in participating in the work of the home.
Pick Toys Carefully
Montessori schools are known for their simple selection of toys designed for imaginative and practical play, and you can provide your children with the same opportunities at home. Montessori teachers recommend providing children with a coin bank and coins, watercolors, and baskets of toys organized by topic, such as tools, kitchen supplies, animals, and foods. Each of these simple items opens up worlds of possibilities beyond what today's popular plastic toys allow.
Rotate Supplies
Along with providing your children with carefully selected toys, another common Montessori practice is to rotate what items you offer. While it's great to provide access to a variety of activities, realistically children really only need access to between 8 and 12 items at a time. Limiting what toys your children have access to also encourages them to focus and allows them to master new skills involved in manipulating different toys. Children are also excited when the "new" toys come back out, plus limiting the number of toys cuts back on mess.
Create A Nature Space
Nature plays an important role in the Montessori classroom, but if you're a busy parent, especially one living in a city, it may be hard to find time to explore the great outdoors. Luckily, you can supplement your child's access to nature by creating a "nature table" equipped with a variety of items for your child to explore, such as seashells, feathers, rocks, pinecones, bugs (even if they're just fake ones), small plants, and paper snowflakes.
The items on your nature table will help your child build vocabulary around the seasons and the environment, understand how different parts of nature interact, and also provide important sensory exposure. Supplement your nature table with books about the seasons, holidays, science, and other relevant topics; as with many other facets of Montessori-style education, the nature table and its complementary supplies can grow with your child.
Say Yes – And No
Finally, a big part of Montessori philosophy is permitting exploration while setting appropriate limits. With this in mind, it's important for parents to respect their child's abilities and curiosity and allow them to help you around the house. They need a chance to try out what they're learning, to make mistakes, and to try again.
At the same time that you're allowing your children to test the limits of their world, it's also important to know when to say no. Say no when your child tries to do something inappropriate and then offer a redirect, ideally by presenting a choice between appropriate activities. Saying no doesn't have to be about scolding, but rather is just another way that parents can provide information about the world.
A Montessori-influenced home environment can provide children with the skills they need to become curious and engaged learners as well as responsible citizens of their home, school, and community, but it's not all fun and games. In fact, some days it might seem easier to put on a video so you can make dinner alone or to clean up the mess rather than to let your child do it themselves. In those moments, remember that it's worth saying yes. This isn't just about today's tasks, but about providing your children with opportunities to learn and grow. In the process, you might just see something new in the mundane.