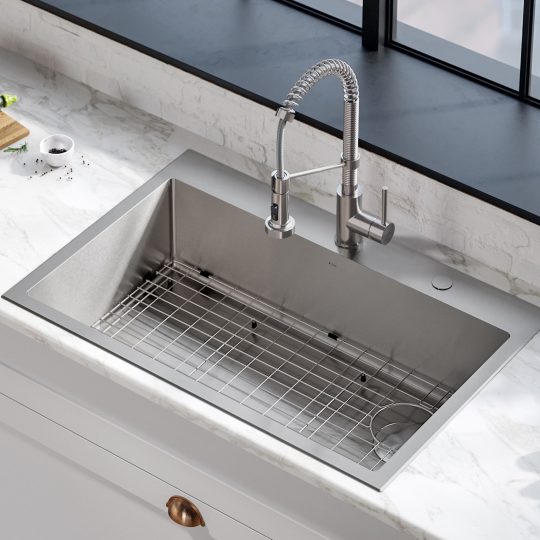 You may not realize, but purchasing a kitchen sink is an essential step as you use it many times every day. Today, you get different options in this category. But when it comes to affordability, stainless steel seems to be the most viable option.
These models have been in use for a long time and are still going strong for the simple reason that they offer optimum functionality and value while being cheaper to most other alternatives.
Due to this, they garner terrific demand too. However, the main challenge is how to identify between a good and poor-quality stainless-steel sink.
Your mind must be telling you to focus on the sink's appearance. After all, you want this plumbing fixture not just to perform well but also to complement the whole aesthetic theme of the kitchen.
Don't worry about the looks because a stylish stainless steel sink is easy to find. You can visit a trusted store to browse their collection from the comfort of your home.
However, while checking the shape and exteriors of the sink, make sure to learn about its engineering also. Pay heed to the thickness of the material, long-lastingness, and so on.  
A stylish choice does not necessarily have to be limited to the design. In this modern age, anything that combines the best of all the elements can claim to be one. So, when you go shopping for one, keep the following things in mind.
A high-end stainless-steel product can be slightly expensive
The stainless-steel gauge or thickness matters, and hence, a higher price for the same is not a surprise
Cheaper material can succumb to discoloration, corrosion, scratches, and dents sooner, while high-quality sinks can take care of all these along with providing noise control and durability
It means if you want your sink to be stylish in every sense, then you need to practice carefulness with what you select. Here are some pieces of information that can come in handy in this regard. Let's go through them once.
Best grade stainless steel for home kitchens
Some people say 316-grade stainless steel can be cost-effective and durable. But if you are eyeing the highest value for money, then the 304 series is the best. It makes a common choice also. In the market, some companies offer 430 grade also. But you cannot expect it to be durable and flexible.
Plus, a dent can be another challenge with them. So, as you can feel, the safest and most preferable option remains to be 304. Scout for sinks that come with a satin finish to get rid of the issues of rust and corrosion, which commonly occur in metals made of iron.
If you are aware, steel products with iron content can succumb to rusting due to the oxidation process. But the addition of a satin finish can prevent this condition.
The thickness of the stainless steel
While going through product details, you may have come across something like "sink gauge." Gauge refers to the depth of the material. As per usual standards, 16-gauge stainless steel is the best of all the options available in the market.
Some people buy 18 gauge also to cut down their buying costs. But you cannot trust it to perform the same way as the other one. Anything between 20 and above can be considered if its usage is pretty low. Options in 14-gauge stainless steel sinks can also feature in the stores.
You don't have to look for them as they are most suitable for commercial purposes or settings, such as restaurants, community kitchens, etc. 
Gauge 14 indicates that the metal is exceptionally thick, while metal with gauge 20 and above shows its thinness. If your kitchen is the busiest place where you need to handle heavy, large pans and pots, then it is better to buy a 16-gauge sink. It can demonstrate high resistance to wear and tear even if something drops in it.
Another reason why 16-gauge stainless steel kitchens are best to go with is that they offer longevity and shine. However, for your bar area, you can select a sink with gauge 19 to 22 also.
Cleaning and maintenance of stainless steel
The high-grade stainless-steel sink can resist dents and scratches to a greater extent. However, it would take efforts from your end also to ensure that dishes don't knock the surface frequently. The shiny surfaces are not wholly immune to scrapes. Hence, you have to be careful about how you use it and keep it clean. 
Usually, online stores provide care tips as well, where they recommend using mild cleaning solutions and a soft cloth. They also suggest regular rinsing and wiping the surface is necessary after you have done your chores.
As such, stainless steel kitchen sinks can be an essential choice. But no matter what décor your kitchen has, it can merge well with it and give a stylish twist while sitting in the corner of your cooking area. From a practical point of view, everyone is aware of its durability and strength that allows it to face most of the household tasks like a hero.
However, you can still be thinking about it in terms of looks and hygiene. As already hinted above, a top-notch quality sink with a sturdy body can offer incredible resistance to corrosion, scratches, knicks, and dents. On the contrary, a cheaper model will not take much time to look dirty, scuffed, and dull.
Hence, if you want to give your kitchen the most happening plumbing piece in the form of a sink, then rely only on best quality stainless steel. It can prove to be an apt companion for your kitchen by exhibiting the highest amount of tolerance for tears and wears.
The rest of the thing depends on how you treat it. If you clean and maintain it properly, you too will have no complaints about your choice. So, what is your decision? No matter whether you have a modern, country-style, or some other theme in your kitchen, you can depend on a stainless-steel sink to resonate with the vibe.
Also Read- Homemade Cheese Crackers Recipe #KidsintheKitchen