Kids don't always love new clothes, but their parents do, especially when they're hip kids' clothes. The greater the variety in stores, the more new trends.
Most parents have that one photo of the kid who decided they want to pick their own clothes for the day. Let's just say, it might not be what mom would pick.
But kids develop a unique style and know what they like and what they don't.
For some kids, it's all about wearing everything pink and frilly. Other kids care about comfort. There are kids who want their clothes to represent their interests in sports, horses, or superheroes.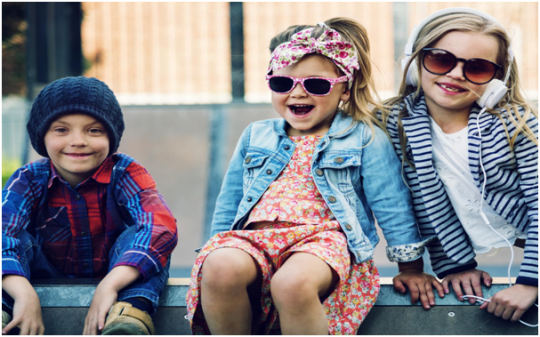 Looking for hip kids clothes that will allow your kids to express themselves, show their creativity, and still not embarrass you out in public?
Check out these children's clothing lines for hip kids clothes for your fashionista.
Toca Boca
What does a plump pineapple in sunglasses, a leggy hamburger, and a purple pile of poop have in common? Well, first, you'll find them in the game app for kids called Toca Life. Now, you can also find them in a hip kids brand found at Target called Toca Boca!
The goal of Toca Boca developers was to create playfulness and fun through their clothes. This is the spirit that drives their designs.
Designers are urged to use some of the same principles that game app developers use in their process. Toca Boca is all about diversity, gender inclusivity, humor, and playfulness.
Their fundamental values are about inclusivity, so they develop and design clothes with one goal in mind: Make something every kid would like.
Cowboy Hardware
Do you have a child who loves the outdoors and horses? Maybe you have some western gear and your child wants to dress like you.
Cowboy Hardware offers cowboy gear for both boys and girls, ages infant and up.
Cowboy Hardware has you covered for a variety of gear. They offer cowboy shirts, tops, rough and tumble jeans, outerwear, or even dresses for girls with a cowboy/cowgirl look and feel.
Shop here for a wide assortment of western gear for your cowboy loving kid.  
Jacadi Paris
Do you have a sophisticated child who goes more for dressing up than roughing outdoors? Jacadi Paris is right for you.
Jacadi Paris, started in 1976, creates collections in the spirit of timeless French fashion.
They have collections for newborns, and ceremony clothing for those special occasions like a baptism. Baby gifts include baby's first bloomers, bath accessories, and special coming home from the hospital outfits.
Jacadi Paris has sizes for toddlers and boys and girls sizes. They offer everything from school wear and organic cotton collections to dress-to-impress styles.
Jacadi Paris is probably best recognized for its ability to offer timeless dress-up clothing for kids patterned after traditional French-inspired clothing.
Rags
Don't let the name fool you. Rags is all about combining hip, cool, and comfort into kids' attire. Recently, adults remember the wonderful comfort of onesie pajamas.
Rags started on this premise. Create onesie clothing that is both hip and comfortable and ready to stand up to what kids can dish out while wearing it.
Babies, toddlers, and more grown-up kids can sport a Rags onesie with:
Llamas
Mountains
Sharks
Flamings
Fancy floral patterns
Since their inception, they've added to their onesie line with shirts and pants for boys and girls and a lineup of girls dresses.
Indikidual
The name says it all and your child will scream creativity wearing Indikidual clothes. They might even be confused for a walking art gallery sporting Indikidual's bright abstracts and prints.
What kids wouldn't want to wear a banana covered bathing suit or sweatshirt? What about a popsicle covered top?
They have quite a bathing suit collection. One suit even gives the appearance of scales on the fabric with ruffles around the backside so your little swimmer takes on the appearance of a mermaid in the water.
Boy+Girl
After spending many years in the design world at some well-known brands, owner Christina Chang set up shop in Venice, California.
She used her experience in design to create a line for kids that is both sensible and aesthetically cool.
The boy line screams the vibe skater and surfer dude. While the girls line the look is more a simple European style aesthetic.
She now offers not only baby and kids clothing and accessories but adult sizes too. Her shop even features home goods too.
The Mini Classy
At The Mini Classy their tagline is "keep your head in the clouds". They even offer a "Cool Kids" rewards program.
The Mini Classy was started with a lineup of cool kids harem pants and has grown since its inception.
Their original harem pants, they call the Dino, feature little Dino spikes running down both sides of the legs. They are made from ultra-soft cotton in bright kid-friendly colors and patterns.
Now they have even taken their ever-popular Dino spikes and put them on full rompers.
They have sizes from baby to kids and offer a wide assortment of other comfortable and cute kids' attire.
Primary
Primary offers cool, hip kids clothes. From shirts, pants, and sweatshirts for boys to a plethora of girls' choices.
If you have a color-loving kid, Primary clothing might become their new favorite attire.
Girls can choose from an array of leggings in patterns and colors that all coordinate with their tops and dresses. Whether in stripes, heart, polka dots, or rainbow, mix the colors and patterns for an endless assortment of daily attire.
Primary offers a colorful lineup of baby clothing too in soft cotton that will keep your baby in style and comfort.
Put Your Kids in These Hip Kids Clothes
If you have a fashionista or kid who has strong opinions about what they wear, one of these brands is sure to help you find hip kids clothes they will love and be comfortable in too.
For more shopping-related articles like this one, be sure to visit our page often.