Are you craving those delicious biscuits from your favorite bakery? Is your coffee break missing some accompaniment on the plate? Well, worry, not! We have some awesome home-made biscuit recipes that you can try out today!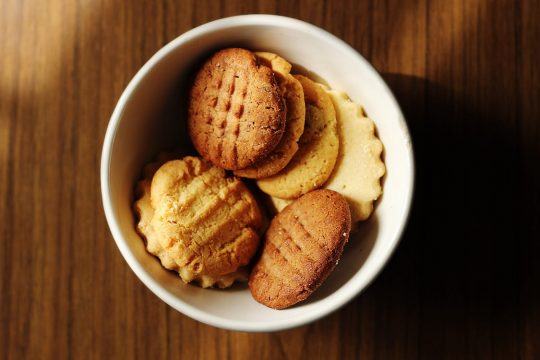 #1 Easy Plain biscuit
For our first easy-to-make biscuit, you will need the following ingredients,
3 cups all-purpose flour
3 tbsp sugar
1/2 tsp salt
4 tsp baking powder
1/2 tsp cream of tartar
3/4 cup cold butter
One egg
1 cup whole milk
Directions:
First of all, preheat the oven to 450 degrees.
Next, put in all the dry ingredients in a large bowl and mix well.
Use a pastry cutter to cut out the butter. It is important to note here that the butter should be cold. Once you are done making small pieces of the cold butter, put them into the dough and incorporate them nicely.
Now, add in the milk and egg. Mix well until the ingredients have adequately combined. The dough should be sticky by now, and the butter pieces should be visible in it.
Once your dough is ready, spread it on a counter or kitchen top sprinkled with flour. Sprinkle some more flour on top and knead well about 10-15 times.
Now, pat out the dough to about 3/4 – 1-inch in thickness and cut it with a biscuit cutter or glass. It is up to you to decide how many pieces you want to cut out, depending on what size you are choosing.
After that, place them on a lightly greased baking sheet or parchment-lined baking sheet and bake for 10 to 15 minutes or until golden brown on top.
Finally, brush it off with some molten butter.
Your biscuits are ready for tasting!
#2 Peanut-butter Biscuit
This is a really simple recipe with only three ingredients,
250 g crunchy peanut butter
200 g light brown soft sugar
One medium egg
Directions:
At first, preheat the oven to 180°C (160°C fan).
Now, line two baking sheets with baking parchment. Beat all the ingredients together in a medium-sized bowl until they have combined well.
After that, scoop out tablespoons of the mixture and roll them into balls. Arrange on the prepared sheets, spacing apart. Press down with the back of a fork to flatten them slightly.
Now, bake for approximately 12 minutes. Next, leave them to cool on the baking sheet for about 5 minutes. Wait for them to cool out completely.
The peanut-butter biscuits are ready to be served!
#3 Chocolate Mini Egg and Cornflake Biscuits
The ingredients you will need for this recipe are,
100 g butter (very soft)
100 g light brown muscovado sugar
75 g caster sugar
One large egg
1 tsp vanilla extract
175 g plain flour
1/2 tsp bicarbonate of soda
100 g milk or dark chocolate chips
25 g cornflakes
125 g mini eggs
Directions:
First, in a large bowl, beat butter and sugars, using a handheld electric whisk until it becomes light and fluffy. Now add in the egg and vanilla, followed by the flour, soda, and chocolate chips, until they have combined well. Chill the mixture for 30 minutes to allow it to set.
Now line three baking sheets with baking parchment. Put the cornflakes into a bowl and crunch them with your hands. Roll the dough into golf ball-sized balls, along with the cornflakes, and place them spaced out on the lined sheets.
After that, flatten out each ball slightly with the palm of your hand and press the mini eggs on top of them. Chill them again for about 15 minutes.
Now, preheat the oven to 190°C (170°C fan) and bake for 15-20 minutes, until they turn golden. Cool them out entirely on the sheets.
Your mini-egg, chocolatey delight is ready to be munched!
Final Words
So, what are you waiting for? Get-set-baking today!