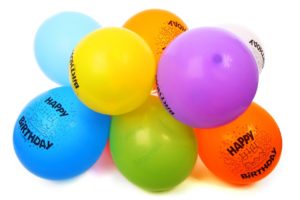 Turning ten in our household is quite the event. My husband and I decided a long time ago that when our children turned ten, it would mean several things. Farther bike rides away from the house, bigger chores, sleepovers with close friends, and a big party to kick off their first year of double digits. Our first child was easy, they are a summer baby, and love to swim. So we rented out the local pool and they were thrilled. Our second child is a fall baby though, so we have to get a little more creative because the weather isn't always ideal, and of course it's less predictable.
We had a couple ideas for what to do for our middle child's big birthday. We have a local nerf gun arena where the kids can have epic nerf gun battles, we could do the planetarium, or look for some inspiration and get creative. So I decided to take to the internet and look for some inspiration. I decided to look up kids birthday party invitations to see if anything sparked a great new idea, and boy was I right. I came across Basic Invite, and suddenly was inspired with so many ideas. They had invites that would work for any of my ideas I already had, and tons more! I found the cutest pirate and treasure hunt invitations and thought about all the possibilities of a neighborhood scavenger (or treasure) hunt that would keep the kids busy and entertained for at least an hour! So of course I tried that idea out for size with my almost ten year old. He took the bait, and was thrilled!
I proceeded to work on my custom party invitations and was not only able to change the text of the card, but was able to edit the colors as well. Basic Invite offers over 180 custom colors to choose from, and you can customize nearly every aspect of the card! You can change the fonts even! It was so nice being able to adjust the colors to fit my child's favorite colors, and change the font to fit his personality.
Not only are the invites customizable, but they have an address service that is easy to use. All I had to do was send out a link to all of his friends' parents, they typed in their address, and the addresses were saved. This made my life so much easier! Even better, Basic Invite printed them on the envelopes for free! So all I had to do was stuff the peel and seal envelopes, stamp them, and mail them. The whole process was less stressful than getting helium in the balloons at the store.
So what are you waiting for, check out Basic Invite today for your online birthday invitations today! You can even use the code 15FF51 to receive 15% off your entire order. Don't forget to check out their social media for all the latest trends and deals in stationery: