For as long as I can remember I've loved Smuckers Walnuts in Syrup on ice cream.  Those teeny jars were like heaven to me and often I would pass on ice cream for dessert if we didn't have any.
Recently I've been splurging and buying it but I could literally eat the whole jar in one sitting.  The cost close to $4 per jar so it hurt my wallet with every delicious spoonful.  This weekend I decided I was going to figure out how to make it myself. I researched a ton of recipes but most were so fancy adding ginger, cinnamon and other spices. What I wanted was simple and straightforward so I came up with this recipe.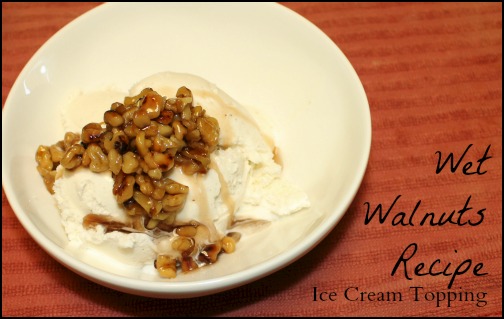 Wet Walnuts Ice Cream Topping #Recipe
A sticky, sweet concoction for ice cream, pancakes, cinnamon rolls and more.
Ingredients
1 cup chopped walnuts, toasted and cooled
1/2 cup water
1/2 cup light corn syrup
1/2 cup packed brown sugar
1/2 tsp vanilla
Instructions
Add the water, sugar and corn syrup to a small saucepan over medium low heat.
Dissolve the sugar.
Turn up heat to medium and bring mixture to boil for 2 minutes.
Remove from heat and add vanilla.
Set aside to cool for several minutes before adding nuts.
Let cool to room temperature before adding to ice cream.
http://lookwhatmomfound.com/2013/01/wet-walnuts-ice-cream-topping-recipe.html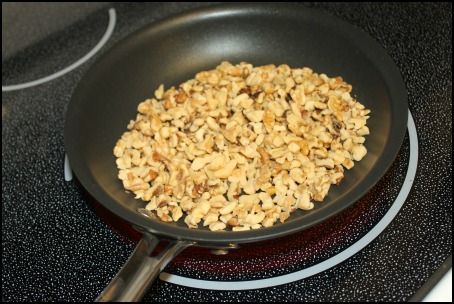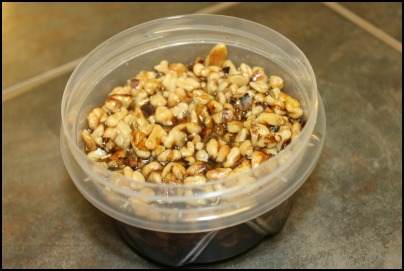 This would be soooo good on pancakes, cinnamon roll casserole, sliced bananas or apple pie. Double the recipe to have on hand for get togethers or a dessert bar.