Craft time is probably one of Shae's most favorite times of day. We don't get to do a project everyday but a couple times a week is good progress for us. We've been stocking on supplies but were lacking tools. Fiskars sent us some great additions to help with embellishing and adding those fun final touches.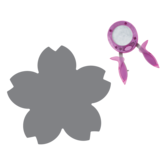 Edgers- decorative shaped scissors that add flair to any project
Squeeze Punches-easy to use punch to create instant shapes
Paper Trimmers- get straight cuts in a snap from almost any type of paper
Border Punches-instant grass without specks of paper flying around
With the above tools and our existing stash of supplies Shae has been able to create some really fun new projects all part of our #300CraftsforKids Campaign along with GummyLump.  Here are a couple crafts that we've accomplished over the last couple weeks.
Shae's able to use the scissors and punches with just a little assistance. Her lines may not be straight, her painting my not provide full coverage and her cuts may be off center but she's enthusiastic about creating things to show off to others. She loves the flower punches and carries stacks of them in her purse to hand out to anyone that she thinks deserves one.
Thanks Fiskars for taking our crafts to a whole new level.