I can be accused of being a frumpy mom at times, I admit it but that doesn't mean I don't love the girly things in life. CATTIVA cosmetics are new to my makeup table but I think if the rest of their products are as great as the Belezza Blush/Bronzer Mineral Duo they might become a staple.
Inspired by Italian Romance, CATTIVA cosmetics is the first high-fashion, anti-aging line of color.With its chic, glamorous packaging, antioxidant rich formulas and rich long lasting colors, CATTIVA is rapidly becoming the world's first fashion accessory makeup brand that makes a woman feel sexy yet sophisticated while defying age. Virtually weightless, our light reflective minerals make blemishes and fine lines practically invisible leaving your skin looking flawless and radiant. From Il Primo Bacio Lip gloss (first kiss) to Tutto Giorno Shadows (all day), the products are synonymous with old style Glamour in a modern world.
Extravagance has never been so good for you!

With the cool weather comes the darker more dramatic eye and lip colors. In the summer pinks and browns were my go-to but now I'm reaching for greens, violets and chocolates. With the new color palette I needed to change my cheek color. Going from a peach to a rose was working ok but I hate the obvious look of blush so I usually go without. Bronzers always looked fake to me, too sparkly for everyday wear. I tested out the Belezza Blush/Bronzer Mineral Duo on my girl's weekend, I figured getting dressed up for the club and dinner was the perfect time to test it out.  I start with brushing along my temples, cheeks and nose and work the residual powder left on the brush along my jawline and down onto my neck.  using a fluffy brush gives it a smooth blended finish without looking like I'm trying too hard.
I loved the fresh look it gave me, I looked sun-kissed. I did spend the day outdoors too so just to be sure I used it again on Thanksgiving and looked at the pictures that were taken that day and really noticed the radiance it gave me. I'm naturally tanned but using this combo blush/bronzer adds brightness to my sometimes dull complexion. You might be wondering why this isn't something I use every day but honestly I don't wear make-up every day. This is going to become a natural step in my FULL face application for things like going out to dinner, visiting friends and spending the day OUT with the family.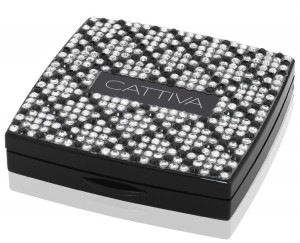 The Belezza Blush/Bronzer Mineral Duo is a refill that fits perfectly into the Square Crystal Compact that also fits the eyeshadow quads.
Smooth, sensual, high cheek bones are created with this luxurious and refillable mineral blush/bronzer duo! Colors are so beautiful and natural that you will look like you're glowing from the inside out! This duo can be used as an all over face color or used for contouring to create a variety of looks and moods! Create a warm and sensual Hollywood glow! Talc & paraben free. Stunning refillable compact covered in Jewels! This compact is compatible with our foundation, blush/bronzer duo, and eye shadow quad.
Since I've been selected as a premier CATTIVA beauty blogger, we have an extra generous giveaway for our LookWhatMomFound…and Dad too! readers. There are (5) Dolce Diva Lip Liners ($20) up for grabs. This paraben-free nude base is a great start to keeping your lip color or gloss stayput all day. Tell me what you currently use for lip color/lip care.
EXTRA ENTRIES:
To receive these extra opportunities for entries, you must fulfill the first REQUIRED entry above. Please note the changes to the entries and frequency, entries that don't follow rules will be disregarded/ignored/deleted.
Follow this blog on Google Friend Connect, bottom of page
Follow Us on Networked Blog, bottom of page
SHARE this giveaway on YOUR Facebook wall or WRITE on our Facebook Wall that you entered to win this giveaway, include link to this post
Follow Mom & Dad & CATTIVA on Twitter and Tweet this giveaway 1 time per day, please leave your twitter link each time, tweet a form of this message: Dolce Diva Lip Liner #giveaway from @CATTIVACosmetics with @lkwhtmomfound @anddadtoo (5 Winners) http://bit.ly/tOxlyo
Like CATTIVA Cosmetics on Facebook.
Enter another Giveaway – let us know which one in the comment (one extra entry per giveaway you enter, just leave separate comments)
Leave a relevant comment on any other Review/Everyday Life/Thoughts post, let us know where to find it
Your entries must follow the rules or they won't be eligible for prizes. This contest ends 11:59 pm, Tuesday, December 20, 2011. The winners will be emailed and will have 24 hours to claim their prize. This contest is open to Continental US residents only. For complete rules please read our contest rules page.