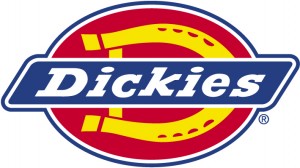 This winter we were approached by Dickies offering to clothe our entire family. When Rob first mentioned this to me I just gave him a look. I really didn't feel like wearing work pants and a frumpy flannel and I was sure Sabreena wouldn't be too thrilled either. He told me that they were sure we would all find something we like and to just give them a chance.
After taking a look at their online catalog I was surprised to find such a variety of outerwear and casual clothing for women. Jeans were a must for Sabreena and I figured I would go the same route. We both chose a slim fit boot cut jean and our regular size but had to exchange for smaller sizes. The updated jeans were a much better fit in the waist but not really a super slim fit. It seems every time Sabreena wears hers I ask what jeans she is wearing. There is something about them that looks really good on her that I always notice.


I also got a pink and brown plaid shirt. This winter I've purchased 2 plaid shirts and this one definitely has a better fit; it's made to look good on a woman. I like that it has snap closure front and pockets. The material is thinner than flannel but softer than a poplin shirt. It's withstanding laundry quite well; getting comfier each time.


Rob got a pair of straight leg jeans. I think they look awesome on him. His whole outfit in fact is one of favorites. It's simple but suits him perfectly; black thermal long sleeve shirt and dark wash jeans. Shaun and Shae got clothing that is more school related. Shaun lives in jeans and sweats so I opted for a pair of double knee pants. I knew due to its construction the pants would hold up to bike riding, hill rolling, playground climbing and the rest of things that 8 year old boys do.
Shae's outfit was something I thought would come in handy for the holidays that just passed. Black slim fit pants and a cranberry colored button down sweater. The 1st pair of pants we chose was too big in the waist, legs and length. We went down 2 sizes and the waist is still too big. I'm surprised at the sizing issue we dealt with. My kids aren't little so I'm quite surprised that some of things we received were sized too big.


Sabreena and I received Sanded Duck Hooded Jackets. They are lined and thick and warm; perfect for early morning waiting at the bus stop or late runs to the convenience store. Shae, Shaun and Rob got lighter weight jackets, more appropriate for fall and spring. Shaun especially loves his Eisenhower Jacket because it looks just like his Uncle Matt's who works as a mechanic.
Overall we've been greatly impressed with the styles from Dickies. It was very different from what I expected and I'm glad I gave them a chance. Besides for some sizing issues which won't be an issue if you shop in a brick and mortar store the clothing fits well and is well made.