Now that summer is here one would think that I should be living my life more like a lady of leisure. That is so far from the truth. My calendar is packed with appointments, blog posts due, events, lessons, volunteering and practice for the kids and work. Being organized is key but I can't always expect everything around me to run on my time. This is where UPS My Choice comes in.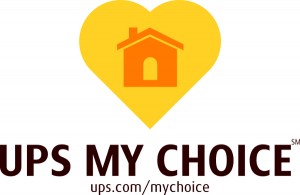 I can continue with my life and my task list and not worry about what's being delivered and if I'm going to be home for it. UPS My Choice is a new way to ship, receive and manage your deliveries. We all know bloggers get lots of packages. There have been times I've come home from a day away and found things at my garage, on my front step, shoved under my door or even at my neighbors. That's no way for me to handle my business. UPS My Choice lets me direct packages to be delivered at a more convenient time and/or location. Here is my Delivery Planner with my most recent orders from last week and this week. I'm able to make a note for my SHOES to be left at the door because I know I won't be home during the delivery time frame.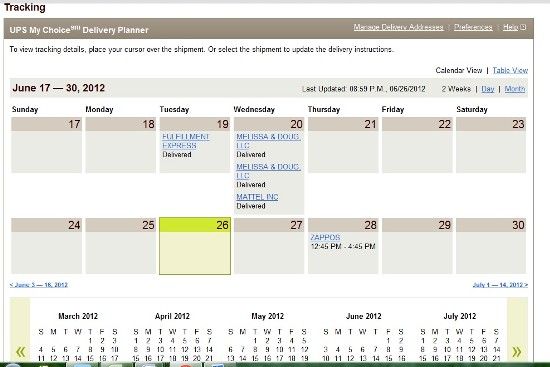 Start taking control of your personal and business packages.
UPS My Choice Member (Free)
Deliver to a UPS Retail Location
Reschedule Delivery
Deliver to Another Address
Delivery Alerts
Approximate Delivery Time
Authorize Shipment Release
Hold for Will Call
UPS MY Choice Premium Member ($40 annual fee)
all the benefits of free membership plus:
Delivery Planner
"Leave at" Instructions (Driver Instructions)
Leave with Neighbor
Confirmed Delivery Window (2-hour), additional fee required
UPS My Choice is working with Poptent to put together these fun real life videos to give you an idea of how the service really works for real people. This one is perfect for my situation, if only Rob would order something so ridiculous so I can reroute it.

I was introduced to UPS My Choice a few weeks ago and signed up for my own account on the spot. Within 2 days I started seeing messages coming through to my phone and email about my packages coming in. I knew I made the right decision.
Zappos and UPS My Choice are bringing a fun giveaway for LookWhatMomFound…and Dad too! readers. Enter to win (1 of 4) $25 Zappo's Gift Cards. Sign up for UPS My Choice, IT'S FREE. Come back and tell me your login name. When you finally place your Zappos order you'll see UPS My Choice in action when it updates your Delivery Planner with a shipment date and time frame.
EXTRA ENTRIES:
To receive these extra opportunities for entries, you must fulfill the first REQUIRED entry above. Please note the changes to the entries and frequency, entries that don't follow rules may be disregarded/ignored/deleted.
Your entries must follow the rules or they won't be eligible for prizes. This contest ends 11:59 pm, Wednesday, July 18, 2012. The winners will be emailed and will have 24 hours to claim their prize. This contest is open to Continental US residents only. For complete rules please read our blog contest rules page.