Enchanted forests and lush green hills. This was the backdrop of Disney Pixar's Brave. The kids, my mom and I were in line that first weekend it was out in the movies and we also were first to order Brave when it became available on On Demand on November 13th. We were so excited in fact that we invited friends over for a Brave Viewing Party after school.
This time of year is busy so I thought a movie and snacks would be a great treat for the kids along with a red carpet and backdrop. While the kids waited for the entire group to arrive they enjoyed getting their pictures taken and indulging in some sweet snacks.
During the movie the kids got involved in Brave themed activity and coloring sheets. Since On Demand lets us rent the movie for 3 days you know it was watched another 3 times.
Pixar Animation Studios whisks you away on an astonishing adventure to an ancient land full of mystery and tradition. Bursting with heart, unforgettable characters and Pixar's signature humor, for the whole family. The Film is rated PG.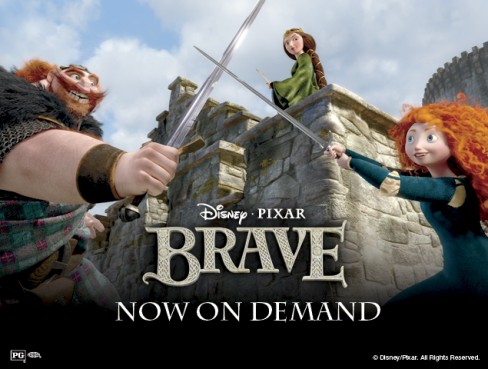 Set in the rugged and mysterious Highlands of Scotland, Disney Pixar's "Brave" follows the heroic journey of Merida (voice of Kelly Macdonald), a skilled archer and headstrong daughter of King Fergus (voice of Billy Connolly) and Queen Elinor (voice of Emma Thompson). Determined to change her fate, Merida defies an age-old custom sacred to the unruly and uproarious lords of the land: massive Lord MacGuffin (voice of Kevin McKidd), surly Lord Macintosh (voice of Craig Ferguson) and cantankerous Lord Dingwall (voice of Robbie Coltrane), unleashing chaos in the kingdom. When she turns to an eccentric Witch (voice of Julie Walters), she is granted an ill-fated wish and the ensuing peril forces Merida to harness all of her resources—including her mischievous triplet brothers—to undo a beastly curse and discover the meaning of true bravery.

Disney Pixar's BRAVE is Now Available On Demand – contact your Cable or Satellite provider to order BRAVE on demand now!