A few weeks ago we got a Ninja Cooking System so I decided I was going to tackle dinner and see if even I could use it.  So I looked through the cookbook that came with the Ninja and I decided on the Pizza Pasta with Pepperoni.  Our family loves pasta, pizza and pepperoni so I figured I couldn't go wrong with this choice.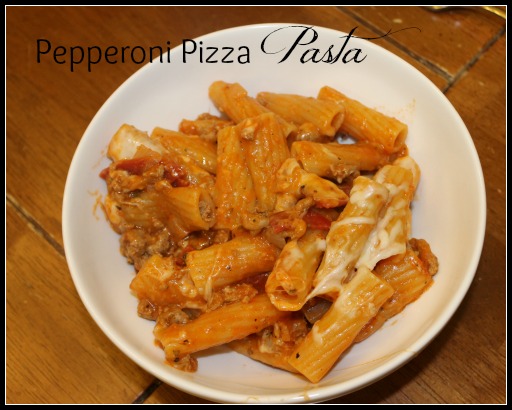 Pizza Pasta with Pepperoni
Author:
Prep time:
Cook time:
Total time:
Ingredients
1 pound ground beef or turkey
1 small onion, chopped
2 garlic cloves, chopped
1 tsp oregano
1 box Ziti (12-16 oz)
1 24 oz jar of pasta sauce
2 cups water
1/8 of a 6 oz package sliced pepperoni
2 cups shredded mozzarella cheese
salt and pepper to taste
Instructions
Set pot to STOVETOP HIGH. Add beef/turkey and onion to pot. Cook uncovered 10 minutes or until meat is browned. Be sure to stir often.
Stir in pasta, sauce, and water. Set to STOVETOP MED. Cook uncovered 15-20 minutes or until pasta is tender, stirring occasionally.
Stir in pepperoni and 1 cup cheese. Sprinkle with remaining cheese. Turn off pot. Cover and let stand 3 minutes.
When I first read this recipe I thought there was no way that the pasta was going to cook in 15-20 minutes while in the sauce and water but to my surprise it was and also tasted really good.  Since the pasta cooked in the sauce, meat and spices it totally soaked up all of the flavors making it a really tasty dish.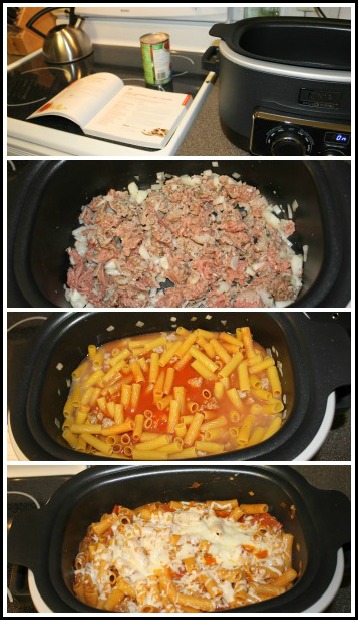 Going forward this will be my go to dish when Melinda isn't home to make dinner because it was simple to make, was done in under 30 minutes and the kids totally loved it and didn't complain once during dinner.  If you are a parent you know when a kid is silent during dinner the meal must be good and like I said the dinner table was silent the night this meal was served.
This meal could also be made using a dutch oven if you didn't own the Ninja Cooking System.