Back on October 19th I was attending a two day event in Chicago and was also invited to attend a Fannie May Chocolate event hosted by Marc Summers.  Due to the travel and lack of food (a grumbling belly) I wasn't feeling so well and wasn't able to make the event but a few blogger friends of mine did attend.  I was told that not only did I miss a great event but that I also missed out on a ton of delicious chocolate dipped strawberries and needless to say I was totally bummed.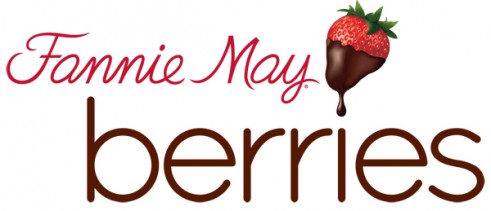 Thankfully a couple weeks after the event Melinda received an email in regards to doing a review of the Fannie May Favorites Chocolate Dipped Strawberries and some part of me felt great joy.  I love chocolate covered strawberries so I was very excited when they arrived at our house.
Here is what the 12 strawberries came covered in:
(4) Pixie® Berries: dipped in a divine mix of caramel infused real milk chocolate and covered with crunchy pecans
(4) Trinidad® Berries: dipped in deliciously creamy, real milk chocolate and covered with golden toasted coconut
(4) Mint Meltaway Berries: dipped in luxuriously creamy, mint-infused real white and milk chocolate
I am sitting here trying to figure out which one of the above flavors was my favorite but to be honest all three were my favorite.  I realized why should I limit myself to just one favorite. Here is evidence that they were goooooooood.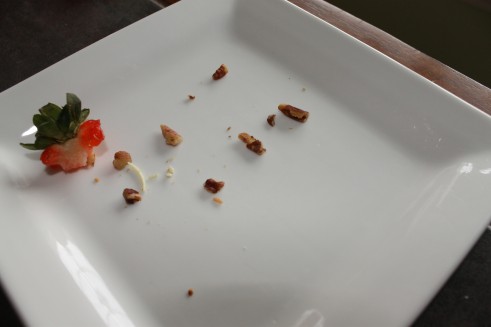 Fannie May Berries can be ordered and in the customers' home within 24 hours and includes large, luscious berries that are hand dipped in 100% rich, smooth, Fannie May chocolate. This is such a plus for me because I typically order family members treats as well as food and typically at the last minute so knowing they will get their order within 24 hours makes my life so much easier.
Another cool thing is that Fannie May Berries includes hand crafted indulgent flavor combinations including Sea Salt Milk Chocolate Caramel, Pink & White Champagne, Toasted Coconut & White Chocolate (Trinidad©), Milk Chocolate Caramel & Nuts (Pixies©) and Holiday flavors—Dark Chocolate Gingerbread, Candy Cane and Eggnog. With all of these flavor combinations you are bound to find something for someone either for the holidays, birthdays or just because.
Just in case you aren't familiar with Fannie May Chocolates:
For nearly a century, Fannie May Chocolates has been bringing you the finest gourmet chocolates, fudge, and candies that have kept them as your favorite traditional chocolate store. Since the first Fannie May chocolate store opened in 1920 Chicago, they have been developing decadent chocolates, using only the premium of ingredients.  They also stand behind our 100% satisfaction guarantee to ensure that the most delicious and high quality of gourmet milk chocolate, gourmet dark chocolate, and gourmet fudge gifts are being sold.
So needless to say this holiday season there will be a lot of family on our holiday list that will be receiving Fannie May Berries.
Do you have someone you would like to send some Fannie May Berries to? If so you are in luck because 1 lucky Look What Mom Found…and Dad too! reader will have the opportunity to win the Fannie May Favorites Chocolate Dipped Strawberries (same as we reviewed).  All I need you to do is head over to Fannie May and pick another treat that you would love for this holiday season.
EXTRA ENTRIES:
To receive these extra opportunities for entries, you must fulfill the first REQUIRED entry above. Please note the changes to the entries and frequency, entries that don't follow rules may be disregarded/ignored/deleted.
Your entries must follow the rules or they won't be eligible for prizes. This contest ends 11:59 pm, Friday, December 7, 2012. The winners will be emailed and will have 24 hours to claim their prize. This contest is open to Continental US residents only. For complete rules please read our blog contest rules page.