Some of you might remember this photo I posted of my friend Kerry's new baby, Kellen. He's not even a month old but I'm already thinking of him when I get pitches for fun things that might not be a fit for my family.
Well, one came it for the Freshfoods™ Cook –n–Blend Baby Food Maker.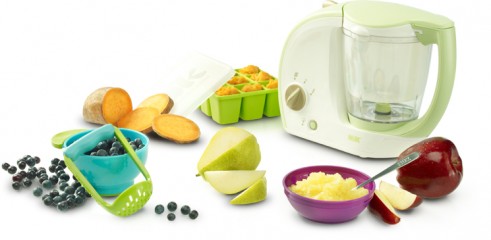 Fresh, homemade baby food might sound like a daunting task but when things like the Freshfoods™ Cook –n–Blend Baby Food Maker come along they take out all the guess work and mess. This system steams and blends the food in one convenient spot. Add water and your own fresh food and that's it. No messing with pots and pans, strainers, blenders or food processors.
I took the Freshfoods™ Cook –n–Blend Baby Food Maker over to Kerry's house last week to try out the appliance. Nevermind I needed a baby fix too. We whipped up some simple pureed carrots and a delicious batch of:
Apple and Acorn Squash Puree
1 medium apple, peeled, cored and cut
1 1/2 cups acorn squash peeled, seeded & cut
pinch of nutmeg
pinch of cinnamon
Add all the ingredients to the steamer basket and close lid tightly. Fill water line to 3. Cook until softened.  Set aside liquid and place apple and squash and 1 tbls of steaming liquid directly into the bowl to blend. Mix until you get a smooth consistency.  Store in small containers and freeze.
The bowl is large enough to fit a couple of cups of food, enough for 4-6 servings depending on your child's age and diet and if you are fixing a main dish or a side.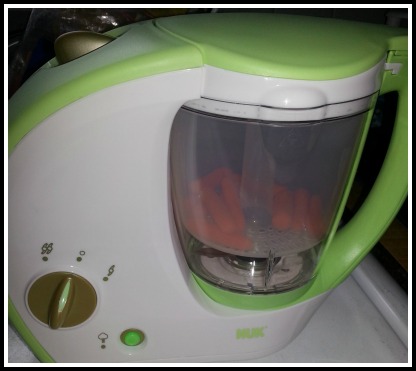 Here is an example recipe that comes with the baby food maker.

Potato, Carrot and Sweetcorn (suitable for 6 months)
1 medium carrot, peeled and sliced (1/2 cup/50g)
1 small sweet potato, peeled and chopped
(1 cup/100g)
1 potato peeled and chopped (1 1/3
cups/100g)
1 tbsp butter (a generous knob of butter)
1 small leek, trimmed and sliced (50g)
1/2 cup (40g) tinned sweet corn
1/4 cup (20g) grated Cheddar (optional)

Place the carrot, sweet potato and potato in the steam basket. Place the basket into the cooking bowl and tightly twist the lid closed. Place the cooking bowl on the base and lock into place. Unscrew the water reservoir knob at the top of the unit and fill with water to level 3. Tightly replace the knob. Press the on/off button to start cooking. The green light will come on and it will cook for approximately 17 minutes. Meanwhile, melt the butter in a saucepan and sauté the leek for about 5 minutes over a gentle heat until softened. Remove the basket and reserve the cooking liquid. Place the steamed vegetables directly into the cooking bowl. Add the sautéed leek, the sweet corn and the grated cheese (if using) and add 1.5 oz of the cooking liquid. To puree, turn the blender button to the desired speed depending on the texture you want.

FOR UP TO 2 PORTIONS*
Mixing veggies and fruits along with spices and meats is a great way to expand a child's palate and prepare them for a lifetime love of food.
There were a couple changes we'd love to see made to the system as it grows in the market. Upon first using it the directions state that the bowl lid is tight and can be hard to remove at first. This was right. The problem with this is trying to open it with hot steamy food inside, you run the risk of burning yourself and possibly spilling the contents of the bowl. After steaming our carrots we noticed there wasn't much liquid. Access to the bowl without completely removing the lid would be helpful. A place to add milk/formula or other ingredients would be a great improvement.
The cleanup was simple, everything stores in itself and I forsee baby Kellen quickly fattening up on homemade meals like his big sisters eat.