Some of you may know that back in October I attended the Kenmore Fall 2012 Blogger Summit in Chicago.  This is my second year attending the Kenmore event and this time I got to meet a lot of really cool food bloggers. I love visiting Chicago because the atmosphere of the city is just awesome.
So like I mentioned the event was back in October so it has been a little over a month and the event was not only fun but informative.  I learned a lot of stuff about cooking, food and lighting that I had no idea about.  Melinda does most of the cooking in our house due to my work schedule but I do cook a few meals here and there when I have time. I am trying to take more pictures and write down more recipes when I prepare meals so that I can share them with my readers.  So far I think we have shared maybe 2-3 recipes.
I also got the chance to learn about Cookmore which is Kenmore's online cookbook where you are able to build your own recipe collection, view other peoples recipes and share your new and old recipes with others.  I shared a recipe on Cookmore that has been in the family for many generations.  Now I don't think the recipe is anything new but it's one that has been made around Christmas for as long as I can remember which you can see HERE.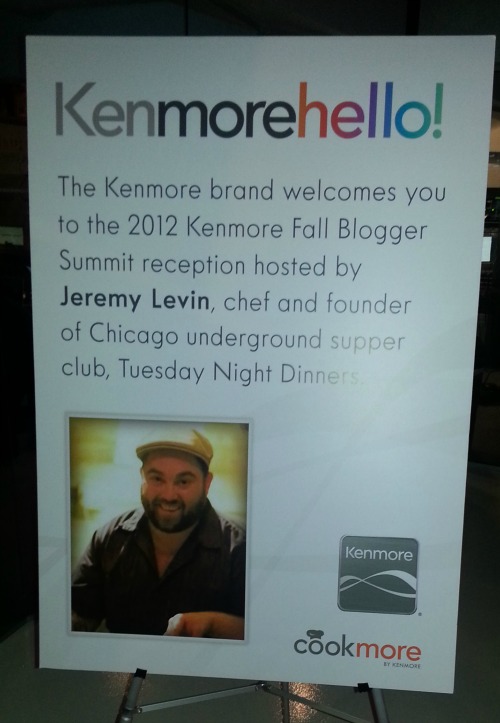 Kenmore made this event so much fun as well as interactive so we actually got to get our hands dirty in the kitchen which was good.  We weren't all just sitting around bored listening to and watching other chefs cook we actually got to roll up our sleeve and got a chance to be chefs for a day.
All in all the Kenmore 2012 Blogger Summit was a ton of fun.  I like attending this kind of event because not only do I broaden my blogging horizons but I also get to meet some really nice people along the way which is really awesome.  I am hoping to get an invite to the next Kenmore event so that I can meet more cool people and learn more awesome stuff from the folks at Kenmore.
If you can please head over to Cookmore because every recipe you add or share earns $1 for Heroes at Home up to $10,000. I can't think of an easier way to help our troops and their families.
Airfare, hotel and meals were provided for this event but all of the opinions in this post are my own!!