The cold fall and winters months but a beating on our family. Each of us, except Shaun, got sick in different ways as cold and flu season was running rampant around the nation. Shae suffered through 4-5 croupy coughs and congestion filled episodes before a steroid was administered to get her through a night. Rob and were switching between cough and congestion medicines, tea and throat drops just to get through the day. I endured 2-3 sleepless nights of coughing and tossing and turning.
Now how I forgot about the tried and true Nyquil and Dayquil is beyond me. New products are coming out every season and tout themselves as the new best thing and as consumers we want that new best thing. New remedies are tried and may or may not work or treat one symptom and not another but since we've spent our hard earned dollars on it we want our value from it. Vicks Nyquil is what I call an all-in-on treatment for the everyday cold and flu-like symptoms. We've all heard the commercial; the nighttime sniffling, sneezing, coughing, aching stuffy head, fever so you can rest medicine.
The original may not have the best flavor but there are new options out there, Soothing Cherry Flavor and Vanilla Cherry Swirl. I wish I had this in our cabinet 2 months back when I was reading Facebook on my phone instead of sleeping at 3:20 in the morning.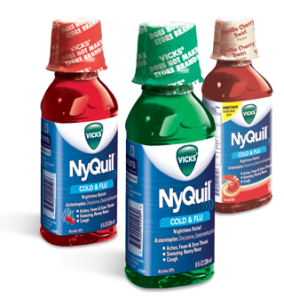 Daytime cold relief is a must have for busy moms and dads too. Yes I stay home while the kids are at school but that doesn't mean my task list isn't a mile long. Rob doesn't have the luxury of calling in sick whenever he pleases. He has to muscle through the aches and misery while dealing with clients, co workers and a commute. Dayquil is offers the same relief as his nighttime cousin in a non drowsy formula. Stock up on both now. The seasons are changing and in our house that means lots of coughs to come.
Nyquil and Dayquil are #1 pharmacist recommended brands for adult cough/cold/flu relief and sold at most retailers where other similar product are sold.
"I participated in a campaign on behalf of Mom Central Consulting for Vicks DayQuil & NyQuil. I received product samples and a promotional item as a thank you for participating."