I've talked about my thrifting before.  I love to save money by visiting our Goodwill and Salvation Army stores.  Trying to clothe 3 kids is expensive especially when you want them to wear clothes that fit and look good.  The community I live it is mostly families so I know I can find lots of kids clothes to choose from.  Getting things for boys is harder though. I chalk it up to boys being harder on their clothing and they aren't worth donating once they are outgrown.  We keep sets of clothes for Shaun, school and play.  The play clothes end up trashed, torn and stained.
I've been taking more frequent trips lately trying to stock up on spring and summer clothes.  Two trips to Salvation Army and one to Just Between Friends Consignment Sale in Philadelphia really produced some great items.  Here is a REALLY long video of me going through my purchases from that date. I ramble, I can't help it.  I apologize.
Here are my Salvation Army finds, some things were purchased on Family Discount Day, 50% off certain color tags.
Not Shown 5 various tees for Shaun, local professional and college sports and AberCrombie and Fitch $2 each
Gymboree Green Tunic Length Sweater $3
Kobe Kids Pink Sweater Shrug $2
Knitworks Pink Plad Button Down $1
Old Navy Pink Tee $2
Kids R Us Purple Tee $2
Faded Glory Floral Twirly Skirt $1
Tech Gear Basketball Pants $1
Urban Pipeline Blue Cargo Shorts $1
Urban Pipeline Blue Cargo Shorts $1.50
Burnside Plaid Shorts $2
Gymboree Striped Capris $4
Old Navy Plaid Capris $2
Arizona Jeans Denim Shorts $2
Mossimo Denim Shorts $3
Justice Black Sweat Shorts $2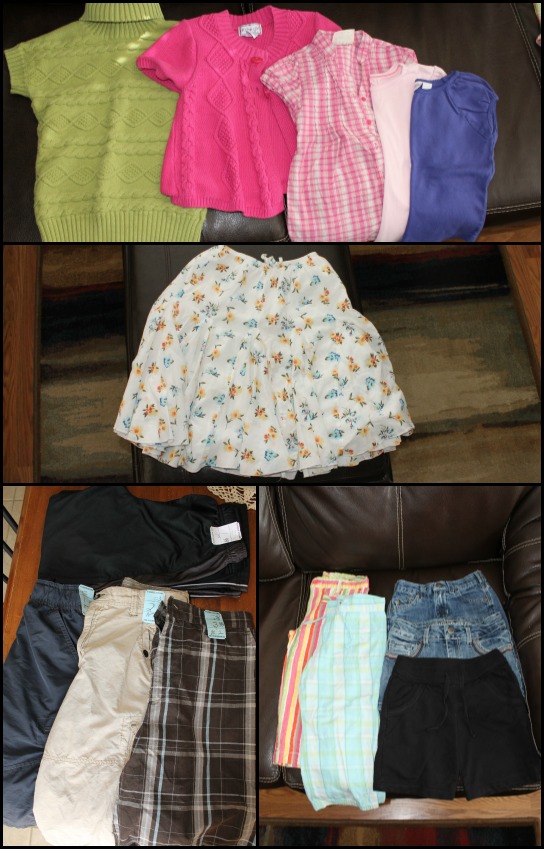 Bob Marley Tee $2
Sabreena can often be found with me shopping thrift stores, especially the outlet where things are dirt cheap. This time around I took both Shaun and Shae. Shaun was bored but a good sport with trying on shorts and keeping out of trouble. Shae on the other hand picked out 20 other tees to buy. She likes clothes and really like to pick out her own things.  This is the reason I like to shop alone.