I participated in a campaign on behalf of Mom Central Consulting for MetLife. I received a promotional item as a thank you for participating.
Every year Mother's Day rolls around and husbands and families everywhere are sent into a tailspin trying to figure out just the right thing to do for the mom in their lives.  We always keep it very simple because what I think is most important is spending time with those that gave me the title of mom.
An extra hour or two to sleep in, a leisurely breakfast and dinner spent with the rest of the family is usually how it goes.  Some years my mom and sister and sister in law often sneak away for a pedicure.  This is how we celebrate each other.
This year MetLife wants to make sure Moms are getting the attention they deserve so they are asking for  a #SocialBlackout.  Being a blogger the thought of NO social media for an entire day in almost impossible.  I'm always on my phone checking email, sharing posts and connecting with brands.  This Mother's Day I'm not doing any of that.  I'm still going to have my phone to capture the memories of the day but I'll only be sharing for those important people in my life who aren't close or can't be with me that day.   My grandmother is thousands of miles away but she loves to see the kids faces on Facebook and I want to make sure we send her a special message that day.
Maybe this isn't exactly how MetLife wants the program to run but I understand their mission. Give mom your undivided attention on Mother's Day and join the #SocialBlackout movement.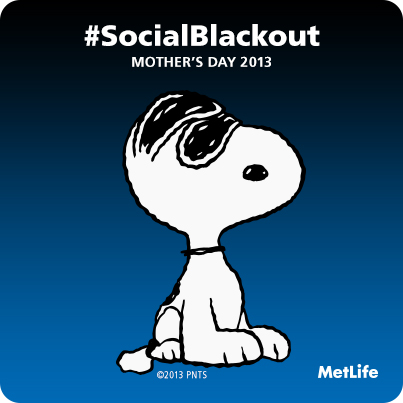 I assure you that my mother and family will get all the attention they need, want and deserve.  I am promising to keep my tech usage to a minimum especially since I'm the mom wanting that special treatment.