Dessert time on our home is like Christmas Day. My kids love treats but we limit them to mostly weekends because ice cream makes a brief appearance in our home. Meaning that the time between when it's bought and the time it's devoured is short.
I want to be able to give my kids special desserts more often without it being a total bingefest. We have popsicles and frozen fruit on hand all the time but those just don't have the same indulgent feel as a sundae. I figured we'd try a Pudding Sundae Bar instead. Pudding can be fat free and/or sugar-free making that a better option over ice cream from the beginning but adding a couple tasty toppings makes it a sweet treat for any day of the week.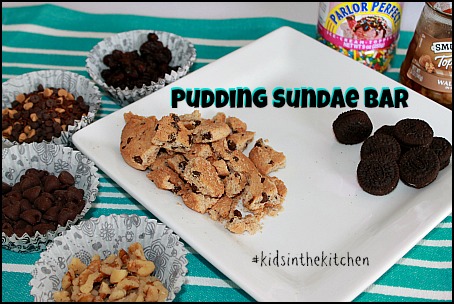 What you see is Shaun and Shae discussing how to get the most bang for their buck. Shae tried to add both cookies but I knocked that down. She instead chose crumbled chocolate chip cookies and reeses ice cream topping sprinkles.  Shaun shocked me the most choosing chocolate chips and raisins. RAISINS!  He said with the cheesecake flavored pudding it was a really good combination.
Try this un-traditional sundae bar in your home.
Did you have fun in the "kitchen" this week? Did you try a new food or a new kid friendly restaurant? Did your littlest ones use their snacks to count to 10? We invite you to share your experiences, photos, stories or recipes that include your #kidsinthekitchen.
Come join me and my co-hosts, Paula at Frosted Fingers, Sarah of PlaytoLearnwithSarah and Sara at Sensibly Sara, each week linking up a post, new or old, that feature the theme Kids in the Kitchen. It doesn't matter what you are doing as long as you are doing it together, enjoying it and learning something along the way.
preparing healthy snacks
having a tea party
discovering a local restaurant that your kids love
creating new family friendly recipes
Don't have a blog? Share an instagram photo or Facebook update.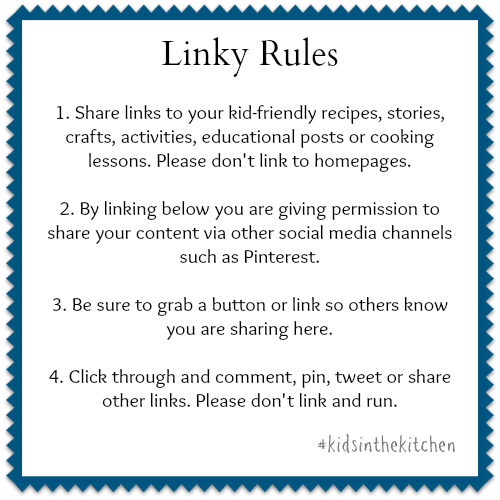 Insert Linky Rules Image Here