I've said it on numerous occasion, My Kids Love To Snack?  We definitely encourage healthy snacking by providing plenty of fruits and veggies but there is not denying  those cravings for a a salty crunchy eat from a bag kinda snack.  How about Brown Bag Microwave Popcorn.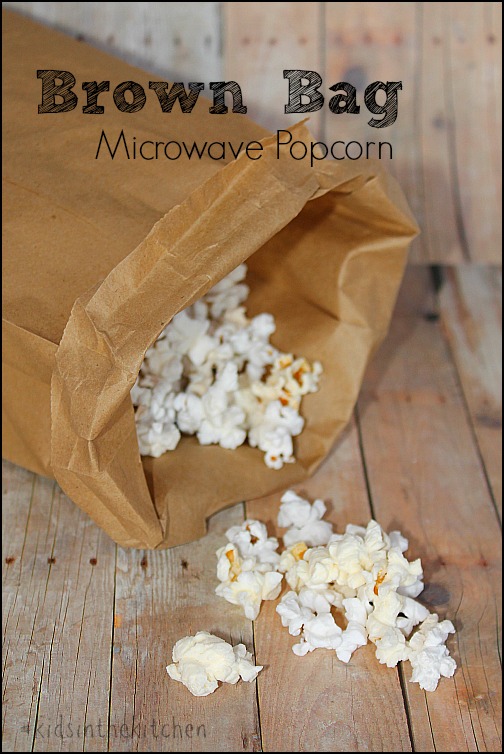 We love love love popcorn. The kids know to bring home a fresh full tub when they leave the movies. I buy the big wholesale club container of kernels so we can make my own in the air popper and sometimes we have a few microwave bags in the pantry. BUT this is definitely a better to enjoy popcorn fresher, healthier and easier then all those other choices above.
You'll need 2 things
brown paper bag
popcorn kernels
Directions
Simply add 1/4 of popcorn kernels to a brown bag and close with a couple folds tightly creased.
Place in your microwave and cook for 2 – 2 1/2 minutes, laying down or standing up is fine. Our first bag was bit burnt at 2 1/2 minutes. Our second bag was better but still had a burnt aroma at 2:20.  The magic number for us is 2:10.
Now it's time to remove your bag from the microwave, add toppings, shake and enjoy.


The kids have been using a cheddar cheese popcorn topping  but I like mine a little more simple. I like to add a big pinch of kosher salt and a few sprays of "fake butter".
This is something the kids (depending on their age) can do pretty much on their own or with  just a little help.
The bag doesn't get hot to the touch.
There isn't a huge scalding burst of steam coming out of the bag.
The measurements and ingredient list is so easy.
Clean up is done in a snap.
Serving size is perfect for one.
I'm loving this version of popcorn so much. I find it to be slightly crunchier than traditional air popped and the bag isn't gross and greasy so eating right from it is convenient and clean. Try it and let me know how it turns out for you.
Come join me and my co-hosts, Sarah of Play to Learn with Sarah, Paula at Frosted Fingers and Sara at Sensibly Sara, each week linking up a post, new or old, that feature the theme Kids in the Kitchen. It doesn't matter what you are doing as long as you are doing it together, enjoying it and learning something along the way.
preparing healthy snacks
having a tea party
discovering a local restaurant that your kids love
creating new family friendly recipes
You'll find so many more ideas on the #KidsintheKitchen Pinterest Board.

Follow Melinda Babiak's board #KidsintheKitchen on Pinterest.