I've said it before. I am not creative when it comes to making food into art. There are sites out there that transform everyday food into mini masterpieces like these Lego Movie pancakes from Kitchen Fun with My 3 Sons or these Animal Pretzel shapes from Stop Looking Get Cookin. That didn't stop Shae from making these Marshmallow Snowman based on her new obsession with Frozen. Do You Want To Build a Snowman is my favorite song from the movie so there was no way I could say no.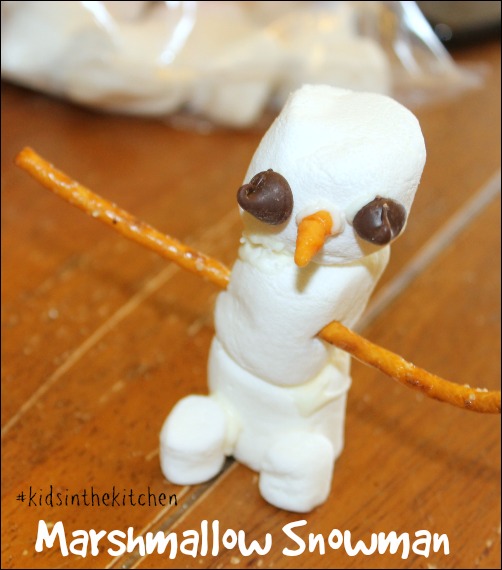 The ingredient list is easy
Marshmallows, big and small
Pretzel Sticks or black licorice if you're going for authentic Olaf
Orange Tootsie Roll
Chocolate chips
White Chocolate or Candy Melts
Ipod playing Do You Want To Build A Snowman on repeat for inspiration
Using a large bowl of VERY HOT water melt your chocolate chips or candy melts in a baggie or piping bag. I just placed the bottom of the bag in the water and let it sit for 5 minutes.

Shae arranged and picked out what she wanted to use to build her snowman.
Microwave the tootsie roll (or starburst) for 8 seconds to soften. Shape a nose. I think Shae's came out perfect.
Using the melted white chocolate as glue start building your snowman. It dries quick and hard.
Adding spots of white chocolate works as glue to hold the carrot shaped nose & chocolate chip eyes in place.
Stab the pretzel into the body and add feet with a couple more dabs of "glue".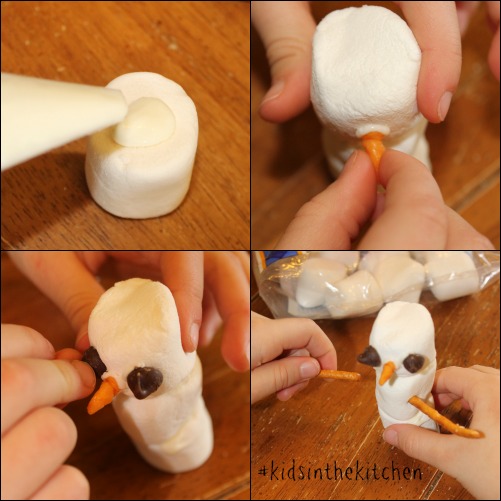 With the dark or milk chocolate make the buttons down your snowman's body.
When he's just the way you like him BITE OFF HIS HEAD and enjoy.
That's what Shae did. It may not have looked just like Olaf but that didn't matter.
Come join me and my co-hosts, Sarah of Play to Learn with Sarah, Paula at Frosted Fingers and Sara at Sensibly Sara, each week linking up a post, new or old, that feature the theme Kids in the Kitchen. It doesn't matter what you are doing as long as you are doing it together, enjoying it and learning something along the way.
preparing healthy snacks
having a tea party
discovering a local restaurant that your kids love
creating new family friendly recipes
You'll find so many more ideas on the #KidsintheKitchen Pinterest Board.

Follow Melinda Babiak's board #KidsintheKitchen on Pinterest.