A couple of weeks back we were invited into NYC for Mr. Peabody and Sherman screening and press day. This post isn't about that. This is about our time walking and experiencing the city and hotel and food. I love staying in hotels. I love messing up both beds, leaving my shoes in the middle of the floor and channel surfing like my life depended on it. We stayed at the Ritz-Carlton New York, Central Park. Did you just OOOOH? I did when I saw the accommodations the first time. I was excited to stay at a "fancy" hotel. I expected cream of the crop, top- notch customer service from the second I walked up to the moment I checked out.
That didn't happen. I will start off with saying that the hotel was booked solid for the press junket. The enormous trunks of camera equipment were taking up space in the small lobby, doormen weren't paying attention to guests but instead truck drivers uploading MORE enormous trunks of media equipment, guestz were standing around waiting for their rooms.
This was problem number one. We arrived at 3:00, check in time and were told our room wasn't ready. The story started about being super busy, rooms booked solid, production company being very demanding, blah blah. Rob and I are pretty easy going so we decided to take to Central Park while it was still sunny. There was snow and ice on the ground but walking through the park was nice. We held hands, which we never do and even managed to snap this pic of ourselves.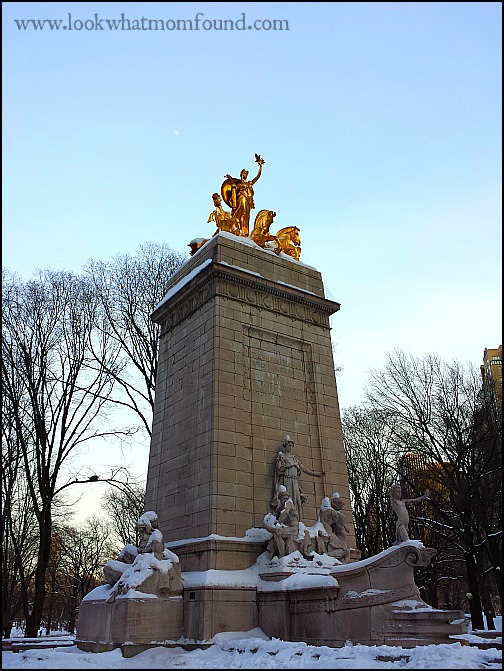 We walked and walked and ended up walking through the Upper West Side looking at gorgeous architecture and crazy cute French Bulldogs (are French Bulldogs the dog of rich New Yorkers). We ventured to Amsterdam to Broadway and back to the hotel only to find out our room was still not ready.
At this point we were freezing and annoyed. After some complaining we were let into the 2nd floor Club Lounge to warm up and grab a drink and some food. This was right up Rob's alley. He's loves perks and in his book shrimp cocktail, cookies and Mary Janes for free is a HUGE perk. This made up for delay in our room being ready. We are easy to please. I made a bit of an ass of myself though. We were seated next to a window overlooking Central Park and I leaned on the window sill to look at something passing by and somehow dislodged a panel on the wall. The staff comes rushing over and I'm clueless as to what's going on and why they are touching me and scooting my legs over trying to fix it.
We got message about a 1/2 hour later that our room was ready and we headed up. At this point I sit on the beds and chairs checking for comfort, examine the bathroom for cleanliness and see all the goodies I can't consume in the mini fridge.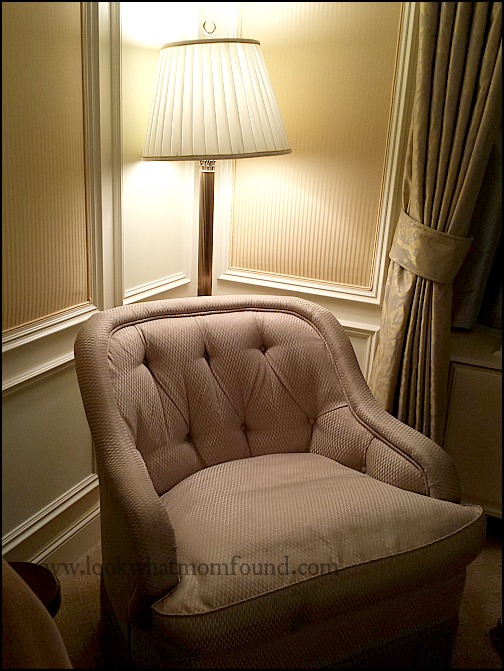 One look at the massive, luxurious tub and I knew it needed to be filled with bubbles, hot water and me. I looked around for bubble bath and could find any. A quick trip to Duane Reade fixed that problem. Robes are my weakness. Even if it's just for a few minutes I must wear it. I have a plush robe at home but hotel room robes are special.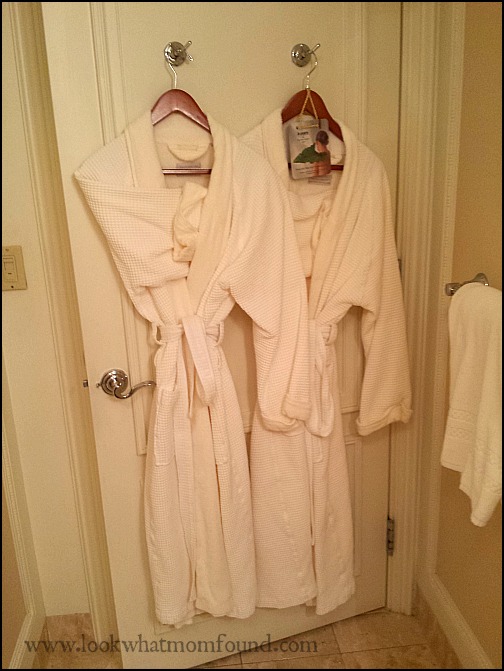 The room had a terrible view but was furnished beautifully. The beds were very cozy and covered in silky-smooth crisp white sheets. Rob claims it was more comfortable than our Sleep Number. I think we should invest in a feather bed at home.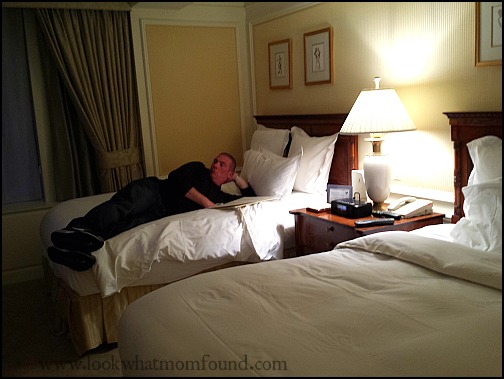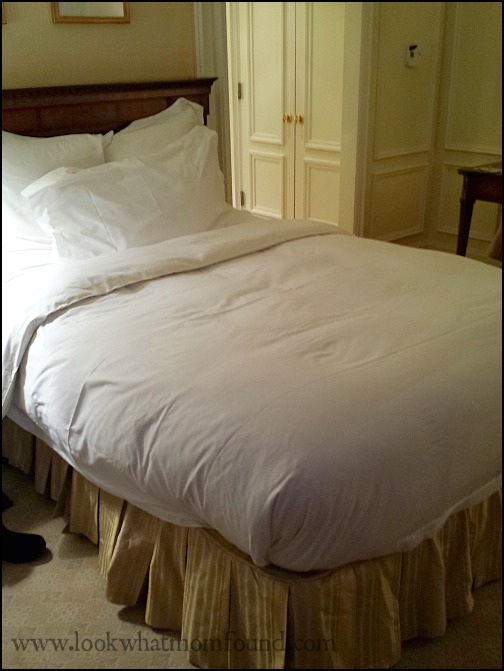 The bathroom was spacious, spotless and brightly lit. I did end up finding body wash in the shower that could've doubled as bubble bath, DUH.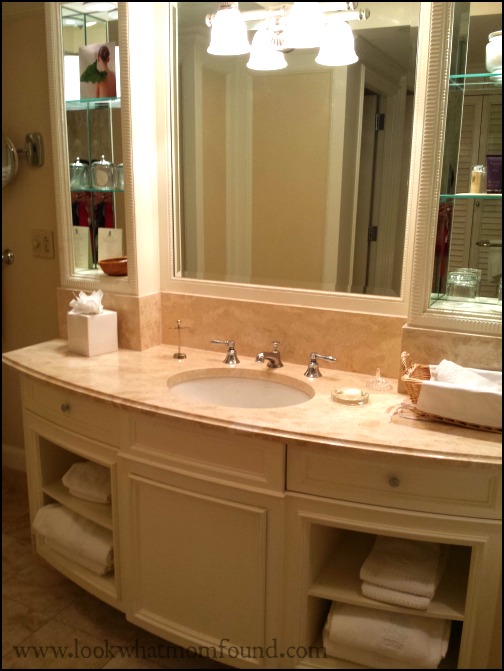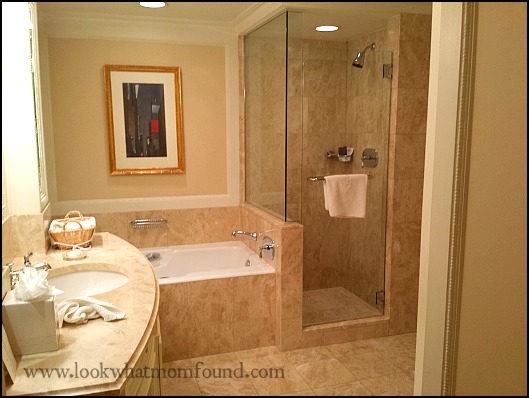 Rob ventured out for ice only to find out we had to get it delivered from someone in the kitchen. It took way too long to arrive for something not being cooked.
Rob wanted to take advantage of beautiful Auden Bistro and Bar for dinner. The staff was very attentive. Our server must've noticed my face when I looked at the menu because he came over and said the kitchen will make whatever I wanted even if it wasn't on the menu. It was late and I really just wanted a good burger, that's what we both ordered. I also ordered their signature AUDEN FRITES WITH TRUFFLE AND PECORINO. YUM. I love truffle fries and I wish I had more room in my belly to eat them all. The burger was AH-MAZ-ING. It's so hard to mess up a burger but this was perfect. Juicy, seasoned, hot and with great bread. The restaurant was very dimly lit otherwise I'd have 13 pictures of just my burger to share.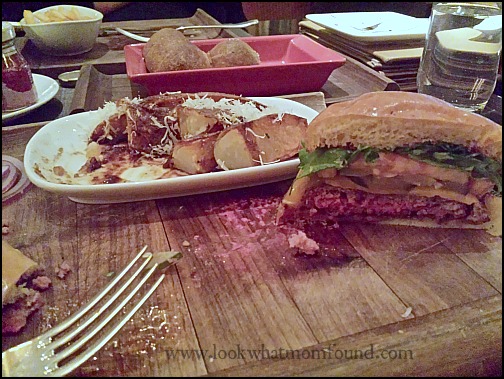 Staying at the Ritz Carlton New York, Central Park wasn't everything I expected. That name suggests a taste of grandeur and sophistication from the top to the bottom. It fell flat on some levels  of attentiveness and communication but the accommodations felt like an oasis full of comfort and luxury.
This is NOT a sponsored post. We were not required nor compensated to share our experience about the hotel.