With spring comes Easter and with Easter comes the influx of sweet, brightly colored candies. Jellybeans are a staple for this season and what better way to use them (besides eating them) is making crafts like this Jelly Bean Tree.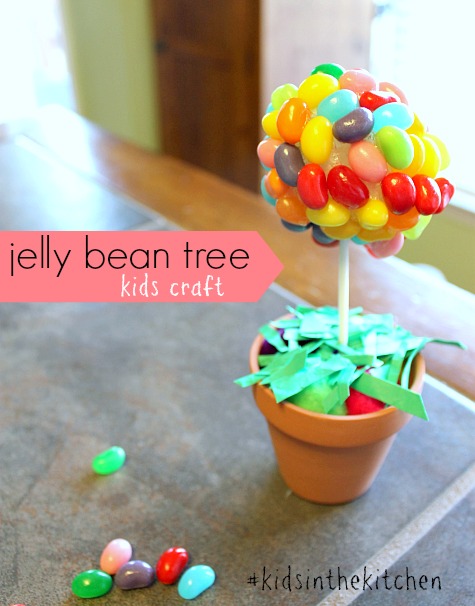 I made a different kind of Jelly Bean Tree(coming next week) but Shae wanted to make her own. Using the same jelly beans leftover from my project I thought this was a good project for her. While it wasn't HARD it took a little more maneuvering than I initially figured. The trick is to use a thick tacky glue, NOT HOT GLUE. You don't want to be stuck holding the jelly beans in place for a long time.
The Quick Grip adhesive from Beacon works really good for projects that use beads, candies, buttons, etc. I wish it came in a different container, a squeeze bottle would be beneficial. (not sponsored)
Materials
styrofoam balls
vase, mini flowerpot
strong adhesive
jelly beans
lollipop stick or skewer
cotton balls
decorative filler/cover, like grass or moss
Directions
Using a dab of glue, stick a styrofoam ball into the bottom of your flower pot and let set.
With another dab of glue slide a larger styrofoam ball onto the stick then into the base.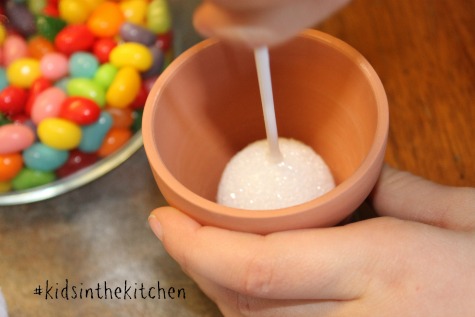 Distribute the glue onto the styrofoam ball in sections. We did lines at first then just filled in spaces. Be sure to hold the jellybeans in place for a few moments so they get a good grip.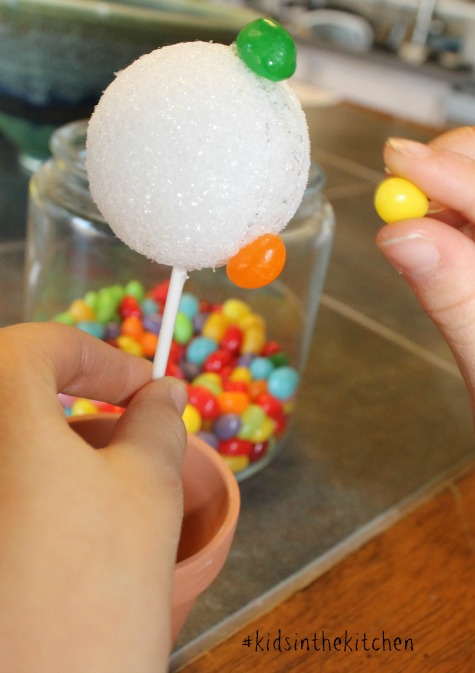 (This is where a good glue is important. School Glue might work but I don't think it dries fast enough to make this a project suitable for kids)
As one side of the ball was getting heavy we supported the stick with pompoms (or cotton balls). these can be removed at the end but Shae ended up keeping them and making them part of her arrangement.
At one point the one of our ball was filled with jellybeans making it a bit top heavy so I placed it in my hand so Shae could add the last of the jelly beans.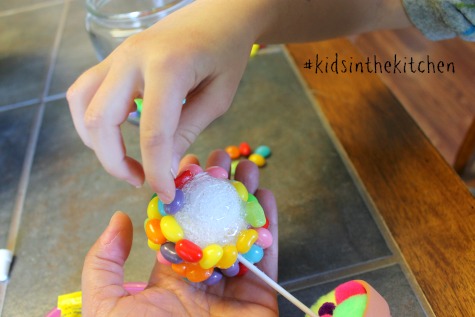 Once your ball is covered in jelly beans and set sprinkle the top of your flowerpot with "grass". We used crumpled up, cut up scrap paper. Now it's sitting on my shelf in the kitchen.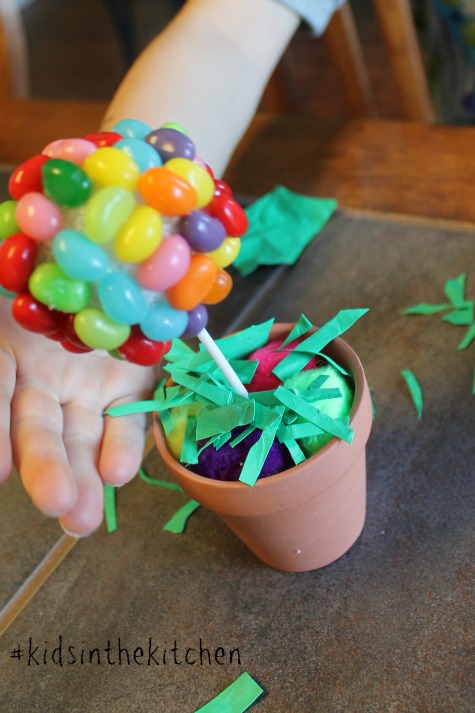 Come join me and my co-hosts, Sarah of Play to Learn with Sarah, Paula at Frosted Fingers and Sara at Sensibly Sara, each week linking up a post, new or old, that feature the theme Kids in the Kitchen. It doesn't matter what you are doing as long as you are doing it together, enjoying it and learning something along the way.
preparing healthy snacks
having a tea party
discovering a local restaurant that your kids love
creating new family friendly recipes
You'll find so many more ideas on the #KidsintheKitchen Pinterest Board.

Follow Melinda Babiak's board #KidsintheKitchen on Pinterest.