Being the man of the house means many of the "dirty deeds" are left for me. This means working on anything from changing high lightbulbs to cleaning bugs from the garage to hosing down garbage cans. I depend on my own handyman skills and know how but also know when to get help.
Just this weekend I tackled some of the dirtiest or toughest jobs around the house. I brought along some of the best products out there, assortment of  Mr. Clean Magic Erasers.  In every room of the house (and beyond) a Mr. Clean Magic Eraser can be used to clean the grimiest of messes. We have them stashed in each bathroom and in a basket under the kitchen sink. I'd have them in my garage if I has easy access to water there too.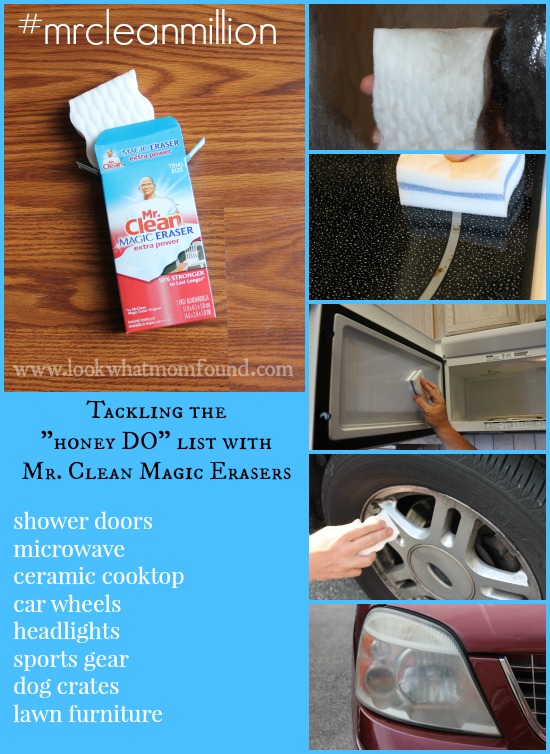 So while Melinda is out with her family today I'm here working on my "Honey Do" list armed with cleaners, rags and a supply of Mr. Clean Magic Erasers. This weekend's tasks included
Cleaning the wheels on Melinda's car
Sanitizing Shaun's lacrosse and football equipment
Clearing the film from the headlights so the lights would shine better
Tackling the soap scum build up on our shower doors
Wiping leftover food from the microwave
Getting rid of baked on food on ceramic cooktop
Sprucing up garden storage box
Cleaning out the dog's crates
Wiping dog nose prints from kitchen door
Spraying down lawn furniture
Cleaning the weird film off the backs of dishes

Sounds like a big list doesn't it. Most of them were simple tasks that required just a few minutes. Some were a bit more labor intensive. The cleaning of the dishes was one those more involved chores. I left it for the teen. For some reason (I'm guessing because both sides of the dishes are wiped before going into the dishwasher) or dishes developed a brown film on the underside of them. This happened on our plastic cups too. The Mr. Clean Magic Eraser Kitchen Scrubber took all the grime off with a little elbow grease.
The rest of the chores got done too. Melinda came home that day to an exhausted husband but a super clean home.  Mr. Clean Magic Erasers aren't just for crayon smudges and kitchen counters. We use them in our entire home, inside and out. Best part is they are reasonably prices and available EVERYWHERE. Attack your dirtiest mess with a magic eraser and see the results for yourself.
Melinda's headed into the kitchen to see how clean she can get her cookie sheets and glassware from baked on cooking spray.
Find out for yourself how Mr Clean is can help you clean a million messes around the house with a Mr Clean Magic Eraser giveaway. Enter to win by telling us one of the first jobs you'd like to tackle or something you've already cleaned with the help of Mr. Clean Magic Erasers.
EXTRA ENTRIES:
To receive these extra opportunities for entries, you must fulfill the first REQUIRED entry above. Please note the changes to the entries and frequency, entries that don't follow rules may be disregarded/ignored/deleted
Your entries must follow the rules or they won't be eligible for prizes. This contest ends 11:59 pm, Tuesday, August 19, 2014. The winners will be emailed and will have 48 hours to claim their prize. This contest is open to Contiguous US residents, age 18 or over. For complete rules please read our blog contest rules page.