Sometimes dinner gets fancy. Especially when Shae starts leafing through my cookbooks. This is how our Sautéed Shrimp and Risotto dish happened.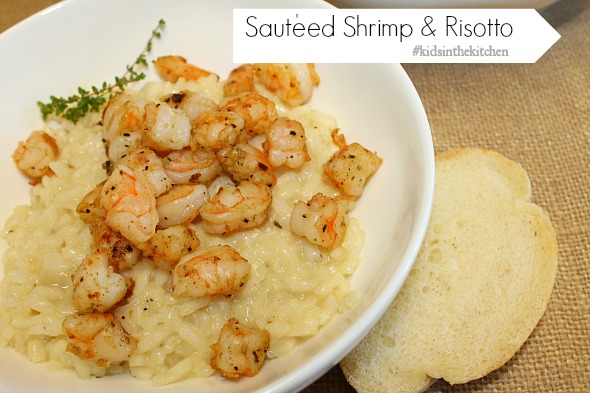 I feel like this is has been the most involved Shae has been in a meal preparation EVER. She definitely took all the credit for dinner this night. Rightfully so too. She peeled the shrimp, cut them, stirred the risotto, added some of the stock, added the spice and flavors. I plated dinner and supervised.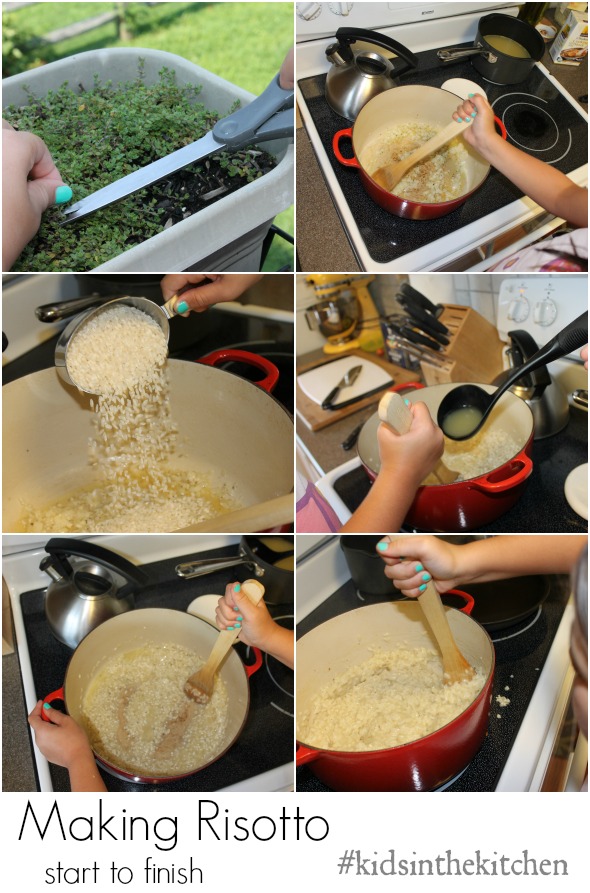 This was only my 2nd or 3rd attempt at Risotto. I was a bit hesitant at first but hey why not learn together. It feels like a lot of ingredients but it all comes together very easily. Skip the shrimp if you want or switch meats or add veggies. We went simple this time around but will doctor it up more next time.
Sautéed Shrimp and Risotto
Ingredients
1 1/2 lbs peeled, deveined shrimp cut into bit size pieces
4 cups quality chicken stock
1 tsp fresh thyme
3 tbls butter
1 tbls olive oil
1/2 cup finely diced onion
2 tsp finely chopped garlic
1 tsp salt
1/2 tsp fresh cracked pepper
1 1/2 cups Aborio rice
1/4 parmesan cheese
Directions

Peel & clean your shrimp, chop them into bite size pieces and season them. We used salt, pepper, red pepper flakes and Mrs. Dash Onion & Garlic. Set aside
In a medium saucepan add 4 cups of stock and thyme, bring up to a simmer then set to low to keep warm.
In a large stock pot heat butter & oil over medium heat. Add onions, garlic, salt, pepper and cook till softened, approx 6-8 minutes.
Add Aborio rice and stir till coated with onion mixture. Slowly add ladles of the hot stock and continually stir the rice till stock is absorbed. This should take 20-25 minutes.
Stir in parmesan cheese just before serving.
The rice should be soft but not mushy with a smooth "sauce" coating it.
In another pan over medium high heat drizzled with 1tsp olive oil quickly cook your shrimp till golden brown, about 6 minutes.
Serve the shrimp over the risotto.
Serves 6
Everyone seemed impressed. Even Shaun ate it all without a single comment or complaint. Here's his bowl, he was the first one done.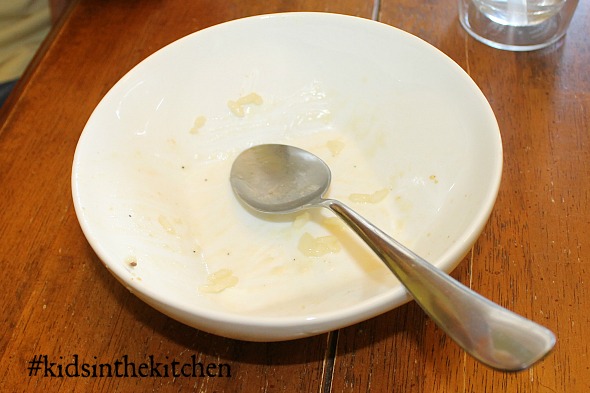 A child's taste for food definitely changes when they are more involved in the cooking process. Just 1 year ago Shae didn't even like rice.  Now we're making Risotto together. I love these changes.
Come join me and my co-hosts, Sarah of Play to Learn with Sarah, Paula at Frosted Fingers, Sara at Sensibly Sara and Reesa of MommaLew each week linking up a post, new or old, that feature the theme Kids in the Kitchen. It doesn't matter what you are doing as long as you are doing it together, enjoying it and learning something along the way.
preparing healthy snacks
having a tea party
discovering a local restaurant that your kids love
creating new family friendly recipes
You'll find these and many more ideas for healthful and unique food fun on the #KidsintheKitchen Pinterest Board.
Follow Melinda Babiak's board #KidsintheKitchen on Pinterest.