This is a Sponsored post written by me on behalf of TruMoo for SocialSpark. All opinions are 100% mine.
The candy is about to roll in. Trick or Treating is such a big deal with my  kids. It's like a competition who can get the most candy. What they don't seem to understand is they visit the same houses so the quantity is the same. Then when we get home everything goes into one bowl, a communal bowl, a family bowl of goodies to be enjoyed over the next few months.
Candy is important for kids but that's not how we live our lives all the time. We are pretty healthy eaters. The kids have balanced meals and snacks but we don't deny some treats and sweets. Sometimes this means cakes, cookies and candy. Sometimes this means an icy cold glass of TruMoo Chocolate Milk.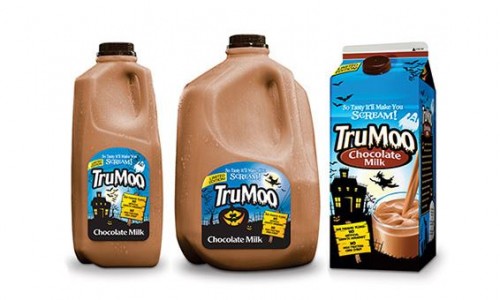 TruMoo Chocolate Milk has just the right about of sweetness and the creamy silky finish. For a long time chocolate milk has been seen as an unhealthy choice for a kid's diet due to the added extra sugar & calories. TruMoo offers their flavored milks with NO high fructose corn syrup and less sugar then other brands.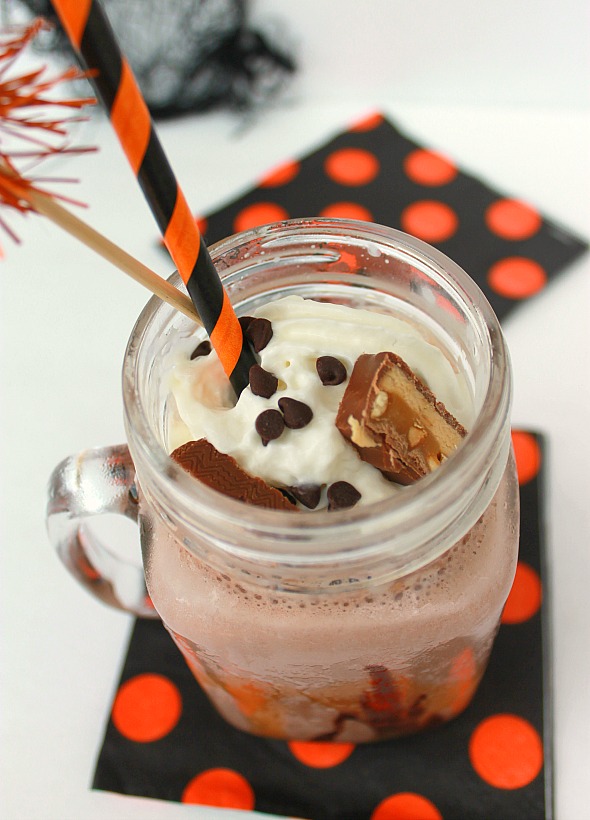 Nutritionally 1 cup of low fat chocolate milk comes in at 140 calories and provides 25% of your needed calcium. This equals the amount of calcium on 5 cups of broccoli. No matter how hard you try you're not going to get a kid to sit and eat 5 cups of broccoli a day.  Give in and feel good about TruMoo Chocolate Milk.
I went above and beyond and made the kids one of their favorite treats. Milkshakes. Not just any milkshake. Double Chocolate Candy Bar Milkshakes.  This idea comes from knowing the candy bars are going to be making their way into our way very soon. Here's a way to use up the candy in a new and fun way. This is meant to be a dessert, a fun dessert that the kids will remember and ask for over and over.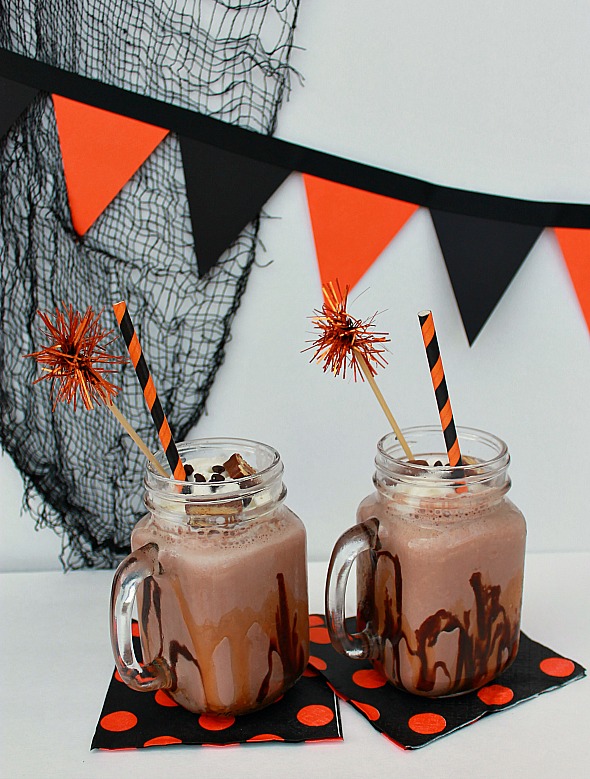 Double Chocolate Candy Bar Milkshake-serves 2
Ingredients
3-4 scoops Chocolate ice cream of choice (we used chocolate marshmallow)
1-2 cups TruMoo Chocolate Milk
4-6 fun size Snickers bars
chocolate syrup
caramel syrup
whipped cream
mini chocolate chips
Directions
Rinse mugs/glasses with water and place in freezer while building milkshake.
In a blender combine ice cream and candy, blend for 5 seconds to chop candy.
Add 1 cup of milk to blender (more or less depending how thick you prefer your milkshake). Blend for another 5-10 seconds.
Remove glasses from freezer and drizzle inside with caramel and chocolate sauce.
Pour milkshakes into each glass and top with whipped cream and mini chocolate chips or chopped candy pieces.
Add a straw and spoon and enjoy.
This is just one way to create an indulgent treat from wholesome chocolate milk from TruMoo. visit their website for more delicious TruMoo Halloween recipes or on Facebook or Pinterest to treat your family to something new and yummy.