I've been making some not so subtle comments about the The Dyson AM05 Hot + Cool fan heater the past couple days. That's because not only is it an amazing product that can efficiently and quickly heat or cool a room for the changing weather it also is Today's Special Value on QVC for $299.99. #HotontheQ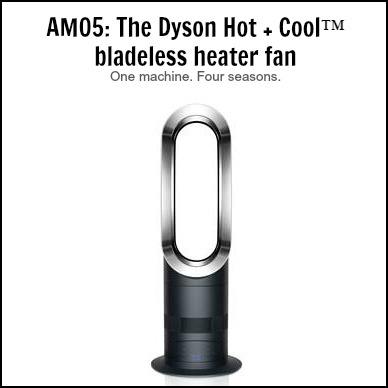 That's right!  On November 2nd  beginning at midnight (EST) QVC will be showcasing the latest technology from the Dyson family for an exceptionally low price.  Don't be stuck in front of a tv screen trying to catch this deal. Visit  QVC.com, the QVC apps or by calling 800.345.1515 to get your pick of Iron/Red, Iron/Copper, and Iron/Silver, Black/Silver, Iron/Blue, and White/Silver. It's One machine for four seasons.
How it works:
Using Air Multiplier™ technology and a motor engineered for greater airflow, AM05 draws in six gallons of air per second via a mixed flow impeller. Air friction is reduced using nine asymmetrically aligned fins, with rows of tiny holes. This helps maintains constant smooth airflow.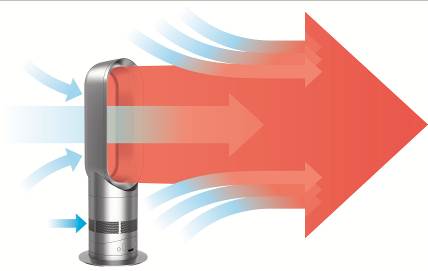 In heater mode, two Positive Temperature Coefficient (PTC) ceramic plates heat the air as it's projected into the room. The air is then accelerated through a tiny aperture set within the loop amplifier. This creates a jet of air which passes over an airfoil-shaped ramp angled at 5˚. Creating an area of low pressure behind the fan, air is drawn in through a process known as inducement. Surrounding air is drawn into the airflow in a process called entrainment.
Safety: Low surface temperatures throughout and no visible heating elements. And if tipped over, the machine has been engineered to automatically shut off.
Environmental chamber – The Dyson Hot + Cool™ fan heater was tested in Dyson's own environmental chamber simulating temperatures from 41°F to 176°F, and 10% relative humidity to 80%.
The swift drop in temperature here in the Delaware Valley we had to close our windows and use the Dyson Hot + Cool fan heater to take the chill off in our room last night. I prefer a cool sleeping environment but just needed to make it more comfortable to climb under the covers and fall asleep.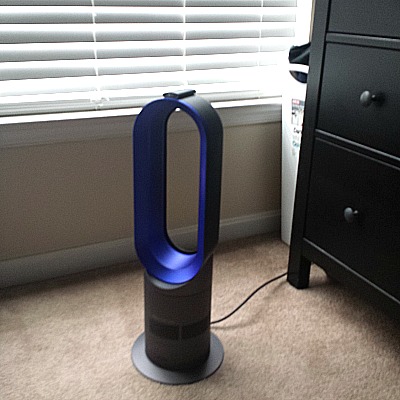 The lightweight machine makes it simple to move room to room so that we can have a cozy cuddling session in the living room or the kids can play video games in the basement and I can warm up the kitchen can warm up if I need a little help with bread dough.
Get your Dyson AM05 Hot + Cool fan heater NOW because this deal won't last forever.