What's on your child's wishlist this holiday season? There are so many choices this year ranging from technology and gaming to creative play and fashion. Having three children with a wide ranges of age makes shopping enjoyable. Shae is still at the stage where she asks for fun items that are just for her.
Last Christmas we gave her a gaming chair to go along with her new video games but it just was never right. She recently said she wanted something more comfy. One Step Ahead came through with a tear drop bean bag in pink and white chevron. This is exactly what she wanted.
As you can see the pink color is perfect. It matches her doll bed, pajamas, comforter and so much more in her room. A beanbag is every kids just right spot. It's a place of their very own. A custom seat for whatever their doing. A beanbag transforms any place into a reading nook, study spot, gaming chair, lounge or just a place to watch tv. Shae pulls her into her bunk bed fort along with books and the dogs for super comfy quiet time.


The One Step Ahead Tear Drop Bean Bag Chair is available in pink chevron or blue twill. They are light enough to be moved room to room to accommodate specific activities. The clever tear drop design offers some back support with squishy foam beans in its own enclosure. The zip-off cover is washable making is a must for kids.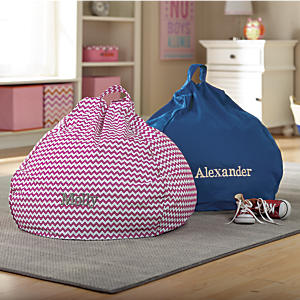 This holiday season One Step Ahead is sharing oodles of fun crafty ideas and activities to get you and your kids in the holiday spirit. Check out their Pinterest page for printable, kid friendly crafts and even fun food inspiration.
Follow One Step Ahead's board Holiday Crafts & Activities for Kids on Pinterest.


Stop by their Facebook page to see if they have any fun giveaways going on.