As a self declared Samsung smart phone lover I'm shyly saying I've made the switch to the Droid Turbo. I said it. I even said it out loud. Six years ago I went from a dumb phone to a Blackberry. It was great for email and text but as my blog grew I needed more so I went to the original Samsung Galaxy. It was great and I upgraded with each new release, that is until now.
Just as the S5 was released I was invited to be part of the #VZWBuzz team. This is a group of specially selected bloggers, social media authorities and tech enthusiasts. How did I get chosen? Anyway. As part of this group I was invited to NYC to learn more about Verizon Wireless and their newest gadgets and services.  The timing was right on with the holidays RIGHT NOW.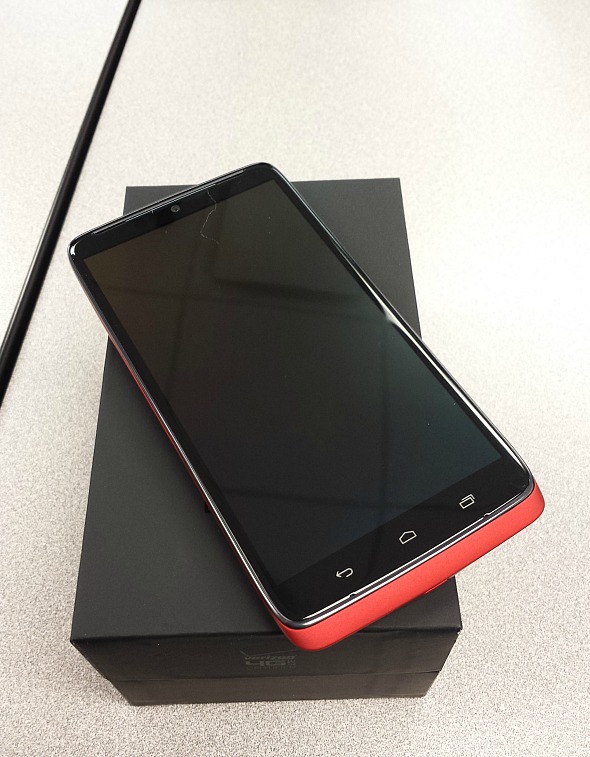 As I said I never thought I'd sway from the Samsung Galaxy family. In fact I was getting ready to upgrade to the Note 4 when I was handed a brand new shiny ruby red Droid Turbo. We were told all about the improved battery capacity, 21MG camera , crystal clear screen resolution and the advanced operating system. That's all great information to hear but I wanted to see it in action. The first thing I did was take a picture.  I was in NYC after all so I looked up and snapped away.
This is the Empire State Building on a dreary night, just at dusk. No filters or editing at all except for size to fit on the blog.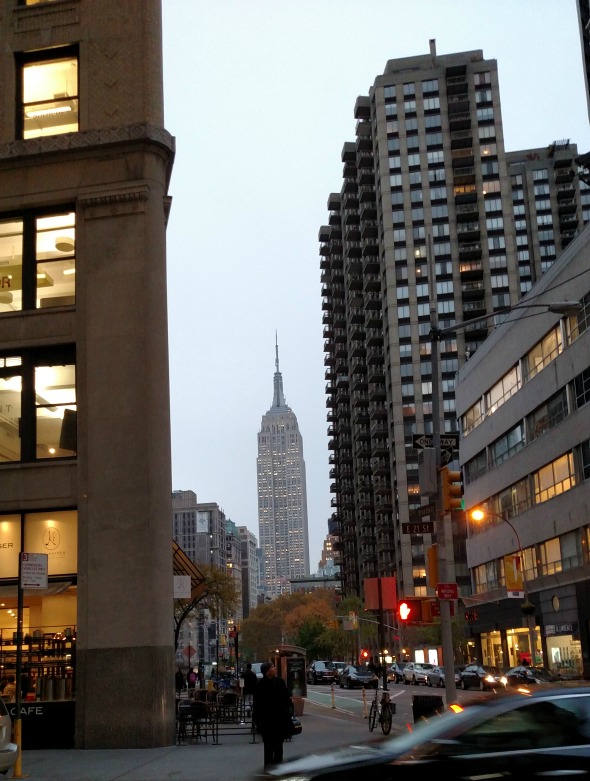 The Droid Turbo features a super quick and easy launch. Just pick up your phone, twist your wrist 2 times and the camera comes on. It takes a little practice. I was shaking the phone in the wrong direction the first few times and it was taking a little while to turn on but once I figured the "twist" action I was snapping pics of my dogs so much faster. My dogs are notorious for moving before I was able to get a pic of their absurd behavior but now they are none the wiser.
This is one dog snuggling up to another's dog's butt. It's not the clearest photo but I was able to take the shot before they noticed and got up to run over to me. Mission accomplished.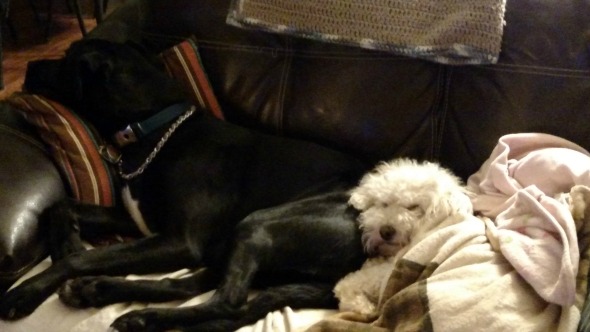 The Active Display is a real time saver for me. With just a wave of my hand I can check the time and see if I have missed calls, text messages or emails waiting for me without turning on my phone. This easily saves on battery plus it doesn't light up a room during the night. Doesn't everyone check their phone in the middle of the night?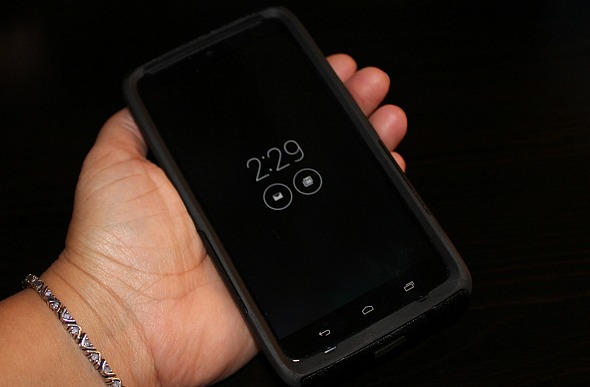 The Droid Turbo claims to have a battery that lasts 48 hours.  I haven't seen it yet. I tend to get 28-36 hours on a full charge. This is definitely better than my previous phones but with what I consider normal use I haven't been able to get anywhere close to 48 hours. I've also not seen the 8hour boost from a 15 minute charge but then again I never need anything that quick. Between a charger in my car and a portable battery in my purse I never worry about being without a charge. This is something I'm going to monitor a little more closely.
Something I did notice that is totally phone related is the volume while on an actual phone call isn't very loud.  I actually talk to my husband, best friend and father on a regular basis each day so I hope for good sound quality.  I don't use a bluetooth ( i keep running them through the washing machine) so it's the old fashioned phone to my ear for me. I've used speaker phone and have played videos and music with other people listening with zero issues.
It's been 2 weeks since I've been using the phone. I'm over the learning curve. I have all my needed apps installed. I'm loving my new phone. Droid is back.
For you more techy folk here are the specs to give you a more indepth idea of the changes that come with the Droid Turbo.
STANDBY TIME – UP TO: 675 hrs.
USAGE TIME – UP TO: 48 hrs.
CAMERA 21MP
WIDTH 2.89 in.
WEIGHT 5.96 oz.
HEIGHT 5.56 in.
SCREEN 5.2″ Quad HD Super AMOLED™ Corning® Gorilla® Glass 3 Display with 2560 x 1440, 565 ppi
BATTERY 3900 mAh
OPERATING SYSTEM Android 4.4 Kitkat®
NETWORK LTE Band 13/4 (700/1700 MHz), CDMA/1xEVDO Rev. A (800/1900 MHz); Global Network: EDGE/GSM (850/900/1800/1900), HSPA/UMTS(850/900/1900/2100)
SAR 1.39 W/kg Body: .50 W/kg
HEARING AID COMPATIBILITY M4/T3
BOX – RECYCLED CONTENT, FSC/SFI PAPER 50%, 0%
DEVICE PLASTICS – RECYCLED CONTENT 0%
ENERGY EFFICIENT Yes
TOXINS FREE – DEVICE PLASTICS, BATTERY Yes, Yes
RECYCLABLE DEVICE Yes