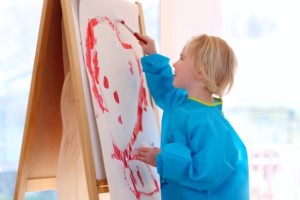 As your children grow, their tastes and interests also develop. While most of us can't afford to cater to our child's every whim, parents want to give their children a space to play, to feel comfortable and happy, and where their imaginations will be inspired. If you're wanting to revamp your child's room, but worry about the expense, there are plenty of ways to make your ideas come to life without killing your budget. Upcycling, clearance racks, and store credit cards that let you pay over time are just some of the ways to keep your playroom ideas affordable.
Upcycle From Around Your Home
Sometimes, all it takes are a few little additions to change the entire look and feel of a room. These additions do not have to be brand new, however. Take a look around your home, particularly in storage areas such as garages and attics. What have you been keeping that has never gone to good use?
Unused picture frames, for example, are an excellent redecorating project that you can do with your child. You can frame their artwork, or have them spend a day creating new artwork for you to frame. If you don't already have the frames, there are plenty available around you. Just try your local thrift store.
Upcycling is a fun way to make your projects more interesting and unique than mass-produced options. You can also easily add splashes of color with some child-safe paint from your local crafts store; just take those frames outside, coat them well with your child's favorite color, let them dry, and then fill them with whatever pictures your child enjoys or has created. Soon, their room could become a veritable modern, environmentally friendly art museum.
Shop Smarter
If you don't have much to offer at home, however, you don't have to spend a lot on new stuff.
Look for Clearance Racks and Discount Shops
All shoppers and craftspeople love clearance racks and, as with any other project, they can become your best friend. It may take some time, but you can find amazing treasures in the clearance aisles of home decor shops, department stores, and craft stores, and, of course, there is always the thrift store.
You never know what you may find; from shadow boxes and other storage containers, to sheets, lamps, and frames, you can take these discoveries and easily turn them into something creative and colorful. All you need are a few crafting essentials that you probably already have in your home, and some helpful instructions from Pinterest. Clearances can also be great if you need to restock your materials; craft stores have sales and clearances on all your DIY needs, too. Those stores may also have affordable details such as buttons, toys, and other applique to help your project. However, in your search, you may also discover a gem that doesn't need any work at all. That's the beauty of clearance racks.
Save Money on Purchases
If your project is bigger than merely adding bits and pieces to spice up the room and requires more time, effort, and money than small DIY plans, store credit cards are also an option. It is always advisable to be cautious when applying for a card. Choose a card carefully at a store from which you are certain you can get everything you need.
Most cards offer something to entice the applicant, so be sure that those offers contain something useful to you, whether it's the amount of points you get by spending a certain amount immediately, the benefits of using the card regularly over time, or a special deal on the interest and annual fee. If you have significant changes in mind for your child's room, paying off the expenses with the help of a store card is a viable method to help you carry out your plans in an affordable way.
Whether your child is a baby or a teenager, you can find a multitude of ways to creatively revamp her or his room, and do so without breaking the bank. Thanks to the Internet, access to information on DIY projects is easier than ever, encouraging greater creativity and upcycling. This also means more people are aware of better, affordable ways to make their ideas come to life.
Your children can inspire you and help you create as you look for useful objects at home, or shop the clearance aisles and thrift stores. Whether you collect and design yourself, or purchase with the help of a store credit card, there are plenty of ways to afford redecorating your kids' room.