As king of your own domain, you have decorating and design needs that need to be met in order to ensure your home reflects your personal style. Designing a masculine bathroom by combining form and function with thoughtful amenities will create a man-friendly space that reflects your design aesthetic.
When designing your personal retreat, pay attention to the details that will blend in with your home's architecture and home decor, while adding your own signature.
Conservative Colors or Vibrant Hues?
It is important to understand your own style. Are you modern and sophisticated, traditional and conservative, laid back and casual, or quirky and eclectic? Once you narrow down your likes and dislikes you can begin choosing a palette that matches your vision. Understated neutrals work best for a conservative look, shades of black, silver and grey scream urban, brown, green and red are laid back tones, and hot lime and tangerine add an eclectic feel.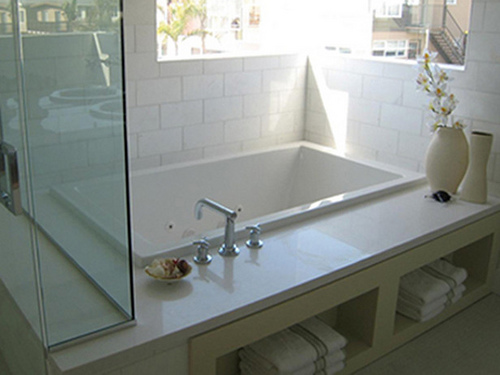 Image Courtesy of flickr.com
Color isn't just for walls and flooring – modern stone tile, quartz, marble and granite are available in a wide array of colors and patterns to match any home decor. While brown tiles are the standard masculine fall-back, go daring with unusual color combinations that combine coordinating tonal flourishes. Look for dark, saturated, moody hues for a men's lounge appeal, or opt for a high-gloss white aesthetic to move it into spa territory.
Beyond Basic Amenities

While a toilet and vanity are obvious musts, there are many luxurious amenities you may want to include. For example, why install a standard toilet when you can opt for a more European-inspired bidet? In the bathtub vs. shower debate, why not both? The latest bathroom design trends lean toward a non-fussy bathtub design that pairs beautifully with angular bathroom fixtures like the Caso in-wall designer bathroom faucet in polished chrome by Maestro Bath.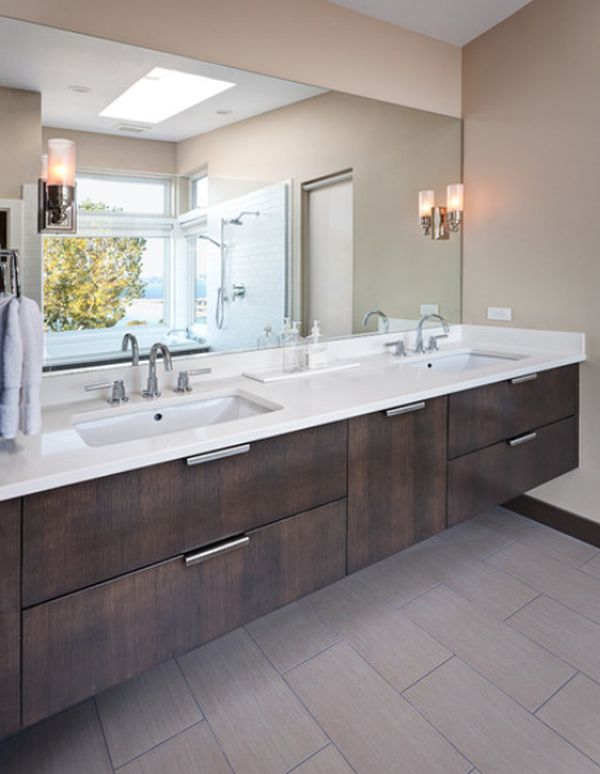 Image Courtesy of homedit.com
When selecting your vanity, keep two things in mind: vanity height and storage. Your vanity needs to not only provide ample storage, but also be installed at a level comfortable for your height. If you are especially tall, look for vanities specifically design to accommodate taller people. Committing to a cohesive design theme will make creating your perfect bathroom a lot easier. Modern trends in masculine bathroom home decor include:
Woodsy – Adding the unexpected ruggedness and texture of rustic, unpainted planks and raw paneling on your walls, ceiling, floor and vanity add warmth and a cozy feel.
Subway Appeal – The traditional subway tile aesthetic is a classic touch for a masculine bath. Available in a wide variety of colors and finishes, from pristine white to metallic jewel tones, they add strong, clean lines. Your choice of grout color can create more even more drama – consider a dark grey grout with ivory tiles for a Paris
Metro station feel.
Mixed Metals – The combination of brass, iron, steel and bronze infuses your space with a decidedly masculine raw industrial quality. Iron light fixtures, an aged steel vanity and un-lacquered brushed brass plumbing fixtures all play well together, and provide a look that is anything but delicate.
Hint of History – By incorporating antiques or classic retro accents into your home decor, you'll add a patina of age and history to your room. Antique, heavily-framed mirrors, vintage sconces and aged tapestries and upholstery add a cohesive, timeless elegance to your bath, which works especially well with claw-footed tubs and details such as vintage shaving accessories.

When designing your masculine bath, keep it simple for high impact, but make sure to emphasize a variety of textures, uncommon finishes, and unexpected details to inject your personal character.