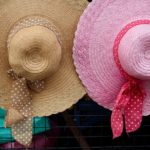 Clothes are not just about the fashion and the way we look. When it comes to your kids, the clothes you put on them can help protect them and keep them comfortable and healthy. When the summer heat begins to treat us, a lot of parents can make the mistake of thinking the less clothes, the better! But since running around naked is often not the wisest option (sunburn!) or the most socially acceptable (hello, fellow restaurant goers!), you might want to succeed with your summer clothes shopping with these simple tips. Here are the five best summer clothes to get for your kids!
A proper sunhat
Your shopping trip should definitely start with a good sunhat. If your kids are older, you might opt for a cap or a cotton sunhat. Perhaps your boys and girls have a favourite sports team and you can pick their branded caps from the store. If your kids are still toddlers and babies, you want a soft cotton hat that can be strapped gently.
The key to picking the summer hat is about protection. You want the hat to cover the face, and especially the eyes, from the harmful UV-rays. You also need to ensure the hat fits well – isn't too loose or too tight – to ensure it stays put when the child runs around.
Stylish sunglasses
Sunrays can be quite damaging to the eyes and you should teach your kids to wear sunglasses as soon as possible. This shouldn't be hard as brands like Gucci make cute sunglasses for babies as well as us adults. Sunglasses are especially important if your child refuses to wear a hat.
When shopping for sunglasses, you need to focus on a few essential tips. First, ensure the sunglasses have a certificate that says they come with a 99% to 100% UVA and UVB protection. So, avoid shopping from non-certified brands and retailers that aren't specialised in glasses. In addition, pick sunglasses that fit the child's lifestyle. Don't opt for something too expensive and add a strap to prevent the sunglasses from falling on the ground. Finally, it's best to test the glasses before buying – avoid shopping for sunglasses online, unless you've first tested them in store.
Cotton clothing
When it comes to clothing, your material of choice for the summer should be cotton. This is the coolest fabric around and will keep your child comfortable even during a heat wave. 100% cotton clothes are available from matalan.co.uk, which has plenty of offers available to help you save with the shopping costs.
What types of clothes to buy? Your summer clothes should cover up as much skin as possible, especially if the children spend a lot of time outdoors. This is to limit the exposure to the UV-rays. Shorts, t-shirts and sleeveless dresses can be nice too; you just need to remember to add a layer of sun protection if the kids spend a lot of time outdoors.
If you opt for long-sleeved cotton shirts and trousers, keep the clothing loose. This can help the child to avoid feeling too restricted and hot. Interestingly, dark coloured clothing can actually be better for the summer.
You can also buy a product to increase the sun protection of your kids' clothing. SunGuard, for example, is a chemical product you can add to your laundry and it adds a sun protection to your items for up to 20 washes.
Swimwear on the go
Children love spending time in puddles, pools and other such watery places. In the summer, there's nothing better than a relaxing dip in the pool. You should definitely consider buying swimwear for the summer and carrying it with you wherever you go. In fact, if you pick something nice like the Zoggs, your kids could wear the swimsuits under their normal clothing. This would ensure they could dip in the water as soon as the opportunity arises!
Comfortable sneakers – with socks!
While it can be tempting to kick off the shoes, you don't want your kids running around without shoes too often. In public places, such as parks, you can't ever tell what's on the ground and you don't want your child to hurt their feet. Instead, invest in a good pair of sneakers or sandals. You want a material that breathes and protects – again, cotton sneakers are a great choice.
Make sure your child also wears socks with the shoes. Short, sandal socks in white or other light colour will look nice and the socks can prevent blisters from forming. Furthermore, if you're using sandals, the socks are great for keeping ticks at bay.
The above clothing tips and suggestions will ensure your kids can have an active yet protected summer. When picking the items, allow the kids to pick the colours and the designs – just keep those fabric and other suggestions from above in mind.