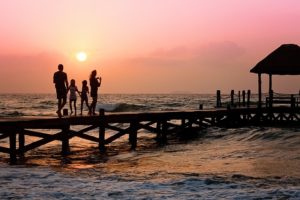 Family vacations are memory makers. According to a recent AAA survey, two-thirds of Americans say spending quality time as a family is the most important part of taking a family vacation and more than one-third are planning to take a family trip in the next year.
While it may not be a tough decision to take a vacation, deciding on a destination that is fun for both parents and children can be tricky.  Here are 5 sure-fire hits for family vacations:
San Antonio, Texas
If you are looking for pleasant weather and something other than the beach, think of the Lone Star state for your next family trip.  San Antonio is one of the most popular tourist attractions because the city offers so many things to do. The colorful Riverwalk is a family favorite with wonderful hotels, restaurants and shops peppered along the river.  San Antonio is also home to kid favorites' Sea World and Six Flags amusement park. They say everything is bigger in Texas and that includes the family fun.  
Washington, D.C.
Do you have some history buffs in the family? Washington, D.C. is one of the most fun, yet educational, family destinations out there.  Bring your child's history text book to life by letting him or her see actual artifacts of American history at any number of free Smithsonian museums.  Tour the White House, Lincoln Memorial and other monuments and take in the history together.  A visit to our nation's capital should be on the top of every family's list.
Caribbean Cruise
Want to explore the Caribbean with your family? Then cruising is the way to go. Children's programs allow parents to have a chance to relax and have alone time. There's a reason why cruising is so popular — with over 24 million vacationers sailing the seas: They are convenience and package a lot of family fun in one.  Cruise lines have made it a point to have something for literally everyone on board – all with the luxury of only unpacking once, while seeing multiple destinations.  
Las Vegas
When you think Vegas, you probably think flashing lights, slot machines and adult-themed shows. What many parents don't realize is that Vegas is a great family vacation destination as well.  From the fountain show in front of the Bellagio, the roller coaster rides at the Stratosphere, to the Cirque du Solei shows, your children will have the experience of a lifetime.  Don't fret that taking kids along means you won't be able to pick up more roulette tips at the casino.  There are multiple well-vetted babysitting services available so that you can leave the little ones for a little while and participate in some adult activities while on the strip.
Boston
Boston is one of the oldest and most beautiful cities in the country, which is why it is a wonderful place to vacation with children.  The city is known for its outstanding children's museum and aquarium as well as history, architecture and everything Irish. Mom, dad and the kids are guaranteed to have a wonderful time exploring,
Where will you take your family this year?