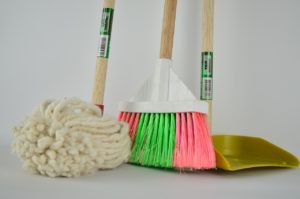 We all know that household cleaning can be a chore and an inconvenience. However, it is something that has to be done if you want to live in a clean, hygienic environment. For those of us that work full time or have a family to look after, finding ways to reduce the time and effort involved in cleaning can be hugely helpful. There are many ways in which you can make lighter work of household cleaning, and this can save you valuable time as well as making it far less of a chore.
Some tips on making cleaning easier
If you want to make it easier to clean your home effortlessly, there are a number of methods that can help. So, let's take a look at some valuable tips that could make cleaning faster and easier:
Do a regular light clean: Some people make the mistake of cleaning only occasionally, which is bad practice for a number of reasons. First off, it means that your home remains unclean and unhygienic for long periods. Secondly, when you do clean you have a lot more to do, which can be very difficult and off-putting. Instead, do a lighter clean on a regular basis so that you stay on top of the housework.
Invest in a handheld vacuum: Having to drag out the full size vacuum and drag it around the home can be a chore in itself. By investing in a cordless handheld vacuum, you can use this for your light cleaning or in case of any small tasks such as clearing up crumbs. You can then use the full size vacuum perhaps once or twice a week.
Use the right tools for cleaning: You need to ensure you use the right tools for a quicker, more efficient clean. For example when it comes to cleaning the kitchen you can invest in microfiber cleaning kits. The microfiber mop is very durable and efficient for cleaning to ensure a more thorough clean and a hygienic finish. When it comes to dusting your furniture, use anti-static cleaning materials and polish so that the dust does not settle back in the same place again as you clean.
Get a cleaning caddy: When you have your cleaning tools and products all over the place, it can add to the time and effort involved in cleaning. By investing in a cleaning caddy, you can keep everything together and wheel it around from room to room with ease. This means no scouring various cupboards to find individual cleaning products or trying to carry a number of different bottles and cleaning products from one room to the next.
Another thing you can do is to develop a routine when it comes to your cleaning. If you do this, you are far more likely to get the cleaning done rather than skipping it or putting it off until the next day. You may want to spend half an hour before work doing a light clean or perhaps half an hour when you return from work.