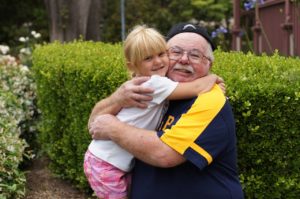 When you have a grandparent, building memories are important to strengthen family ties.
When you build memories with a grandparent, it starts a family tradition. Remember, you'll be a grandparent perhaps one day too if you have children. So, what better way to do both than starting your own Grandparents Day tradition?  This helps develop the bond between grandparent and grandchild.
Ideas for building memories and tradition
One idea is where you purchase a small potted plant, perhaps a Norfolk Pine, which has individual branches. Grandchildren then write down on a small piece of paper what they love about their grandparents. For example, maybe Grandma makes delicious pies for holidays. The note could say how much the grandchild loves to eat them.
Or maybe before the holiday, cookies could be baked at a grandparent's home. Everyone comes over and bakes cookies while the grandchildren nibble on them while they're still hot. After baking them, everyone goes home with a container of cookies. Grandchildren could write the notes about this fun time.
Once the notes are written, roll them up like a parchment and tie them with a ribbon. Attach the roll to one of the branches and present the tree to the grandparent. It is two gifts in one, the plant, which will grow, and the notes that are kept to be read again.
[embedyt] https://www.youtube.com/watch?v=5GHz8ugP8AM[/embedyt]
Or if the grandparent is a gardener, making personal stepping stones is a wonderful tradition to start. A stepping stone kit bought at a craft store is what is needed;one for each grandchild. After the stones are mixed and formed, each grandchild then places their footprint into their own stone while the stones are wet. A grandchild's name is also inscribed beside each footprint. The stones can be decorated with jewels. Or, they can be painted; or other nifty craft ideas can be used.
When the stone dries, present them to Grandma and Grandpa. Every year this can be done, and the footprint stones will make a path of memories. A bonus would be to include photos taken on the day of the stepping stone making event. Grandma and Grandpa would cherish these as well and put them into a photo album.
Other ideas too
Sometimes grandparents aren't as computer-savvy as they would like to be. An idea for Grandparents Day is to help grandparents catch up on the technology. Maybe they haven't used the internet or an iPhone yet because they don't understand it. So, spend the day with them and improve their understanding of the technology. Then they can really stay in touch.
Also, if there's someone in the family who's into scrap booking, even better if it's a grandchild, another tradition can start. Collect photos of the year's events and holidays such as birthdays, or even family dinners with your grandparents. Purchase a scrapbook at the craft store with lots of colorful scrap booking paper, stickers, and embellishments for the photos to eventually be put into. Then have all the family members get together at the grandparent's house with the above items at year's end.
When everyone is together, gather around and show the photos. Let everyone tell what they remember of the events in the pictures. Have someone take notes, a page or two, to put into the scrapbook as yet to be made.
Have the grandchild who scrapbooks help the grandparent design the pages for the photos for the book. They can make the scrapbook together. It will give Grandma and Grandpa a year's worth of memories at the flip of a page.
Another idea is to gather memories from your grandparents. Unless you do this, those memories will pass away. One way to do this is to have all the family get together. There will be twelve cards for each grandparent, one for each month. Next, have the grandchildren (if they're young, they may need help) write a question on each card about Grandma or Grandpa's lives. If you are less than twelve grand kids, they can write on more than one card.
Then you collect the cards, give the grandparents them. Tell them they have 30 days to answer the first one and mail it back to you. Then you can mail the next one to them on the first day following month. Do it all year. The collected cards grouped should be stapled or bound together and presented the next Grandparents Day.
Grandparents Day is for making traditions and memories for all family members. These memories can be shared and passed down throughout the family.