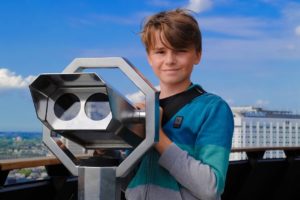 The age of changing hormones and mood swings. The confusing time of the person, who is no longer a kid, but is not even a mature adult. In the years of the teen, the kid is never sure of what to do. Parents become the enemies who deny all freedoms. And the mirror becomes their best friend. There is a sudden attraction towards the opposite sex. 'The First Love'
We've all been through these raging hormones. We've all fought with our parents when they refused to buy us a car to go to college. We've all stared at our naked bodies in the mirror for hours. We've all kept a tab on our outer appearance. We've all been body shamed. We've all taken social networking very seriously. We've all had a 'gang'.  We've all felt the urge to have a person who is exclusively 'ours'. Then there is infatuation, which we believed to be love. We have been stupid, confused, contradicted our own opinions. We've been awkward with our first boyfriends or girlfriends. We've all tried to imitate our favorite romantic scene, and failed. We've all desperately wanted to be liked, to be accepted by everyone. We've all loved the unnecessary attention in school and college. We've all been concerned about our 'image'. We've all been misunderstood. We've all judged and ridiculed each other. We've made fun and have been mocked ourselves too. We've had heartbreaks which seem nothing now. We've all been jealous. We've all experienced sleepless nights of Facebook-ing and WhatsApp-ing. We've all watched adult movies and shared our doubts with our friends. We've all had a curious mind and many questions relating to 'sex'. We've all had dreams about travelling the world and earning a fortune. We've all cried ourself to sleep because of something that appeared to be so big back then, and almost nothing now. We've all joined the gym atleast once, and ofcourse left after a few weeks, because we got too lazy. We've all been really impatient, but even waited for long hours. We've all been really stubborn. We'll been scared. Yet we were the happiest during those 7 years. We were growing.
We've all made a thousand mistakes and a million memories.
We've been there, done that.