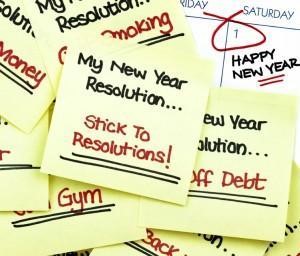 As New Year approaches, everyone starts jotting down resolutions to follow in the New Year. We get inspired by other people making a long list of things to do or from people who have successfully completed doing things that they intended to, in this year. Looking back at our own year, we deduce that we haven't been able to follow any kind of routine, or haven't learned the thing that we wanted to. We realize that we didn't follow our own resolutions that we made at the beginning of the year that is about to come to an end.
This dims our spirits and we promise ourselves that we will do better in the upcoming year. May it be working on your health and fitness by joining a gym or pledging on quitting junk food, we decide it all! We might even go and take a gym membership but do we keep up with it? Do we stop eating the junk that we decided against? Do we in any shape or form drastically change our lives?
The answer is NO!
Why is that? The answer lies in the above-mentioned question itself. To bring a drastic change or even a minor one to that by breaking a habit we have had for years is not a promise away. We need to continuously work on that.
Why should we make resolutions then? While New Year is a good motivation to start new stuff, it is not motivation enough to keep on doing it. For keeping up on something that you have begun you need to be internally motivated, you need constant motivation to achieve whatever you want.
Sure, New Year's resolution can be a beginning point so do make resolutions but don't stop there. Keep on working for it. Even if you are not into journaling, try maintaining a habit tracker, if not in a book there are plenty of apps to help you track your activities. When you see the days you have missed and the days you did what you had to in a visual format you will feel pushed to actually fill all the boxes and see the same colored boxes depicting that you have been working on yourself continuously.
Isn't being proud of your own achievements something that we all crave, it's difficult praising ourselves so why not take a small step towards that as well.
Why stop and make resolutions at the beginning of the year. Review your resolutions at the beginning of each month, make changes to the existing ones if you like, and add new ones if you want. We add resolutions to better ourselves, not stress ourselves out. We cannot predict how our year is going to be, it is impossible to predict our week, let alone the whole year.
Our needs and wants and visions change. We need to keep updating the goals we work on according to what stage of life we are in. Don't just make resolutions, follow them!