Although tent camping can be fun, you can do so much more with an RV. Admittedly, going camping is a fun experience because you can do things that you normally don't get to do, such as cook over an open fire, immerse yourself in nature, and just generally unplug from life.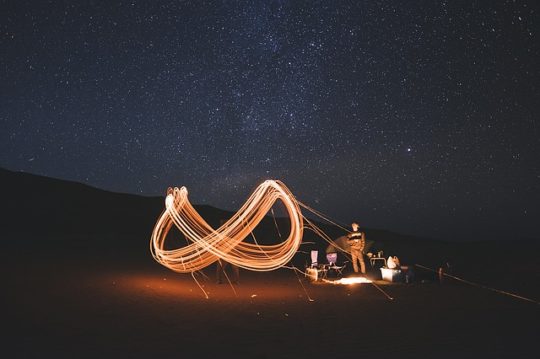 Sometimes, however, you want to be able to fall back on those creature comforts that make life easier — like air conditioning or heat, a refrigerator, and an actual bed that doesn't have you feeling like you got no sleep the night before. Here are 10 reasons to choose RVing over tent camping.
1. Seasons and Weather Patterns Don't Matter as Much
If you go camping in a hot, humid climate, sleeping in a tent isn't going to be the most fun or comfortable experience. First of all, you'll likely be sweating all the time. Second of all, you will likely have to contend with mosquitos, which can invade your tent each time you open the fly.
The same goes for a colder climate. Although you can tent camp in a colder climate, you could be much more comfortable in an RV.  Think about wind and rain. Again, you could be much more comfortable in an RV.
2. You Can Ditch the Cooler
Because an RV has a built-in refrigerator, you'll be able to store your drinks in there instead of having to lug a cooler around. RVs also have freezers, so you can make or store ice. Even if you don't refrigerate all of your drinks, you can still store them in the RV and pour them over ice when you need a beverage.
3. You Can Cook Indoors
When you stay in a tent, you don't have the option of cooking indoors. But with an RV you do. RVs have stovetops and ovens, so you can pretty much cook whatever you like in the climate-controlled comfort of the RV. If you want to cook outside over a campfire or fire up the RVs outdoor grill, however, you can.
4. You Can Take a Shower
Granted, most RV campgrounds have shower facilities, so you don't need an RV to be able to shower. But, sometimes it's nice to be able to jump in the shower in the privacy of your own home on wheels — no shower shoes needed!
5. More Convenient Storage
If you've ever tent camped, you know how it goes, you have to have a portable storage system. For example, you have to put all the supplies you need in clear tubs. Not so, with RVing. Because an RV is a mini home, you'll have more storage and you can organize your supplies.
From cabinets in the main living area to storage in the bathroom to wardrobe closets in the bedroom, there's plenty of room to put away your things without having to live out of a storage tub.
6. An RV is Ready When You Are
While traveling in an RV or even pulling a camper, you can utilize parts of it even when you're not hooked up. This works especially well if you have a generator.
Need to go to the restroom? No problem. Dying to make a sandwich and sit in comfort? Make one. But when you're tent camping, you won't have a restroom or refrigerator at your disposal.
Granted, an RV requires maintenance and can breakdown, unlike a tent. But that's why options like an extended service plan from Good Sam are available. For an affordable rate, you can protect your RV.
7. Dealing With Pets is Easier
If you're a dog person, you might be able to do just fine when tent camping. However, if your dog tends to whine or bark, having the extra sound barrier of an RV between you and other people staying at the campground is preferable.
If you have other pets you need to bring along, such as a cat, an RV will work so much better than a tent because you can easily keep your pet contained, even when you leave.
8. You Won't Have to Travel to a Restroom
Again, one of the major advantages of having an RV over a tent is convenience. If you wake up in the middle of the night and you have to go, you won't have to fumble your way out of a tent and travel across the park to the restroom. Instead, it's within steps, and it's private and clean.
9. You Can Have Privacy
Depending on what model of RV you have, you will likely have a lot more chance for privacy when you want it than if you're tent camping. For example, if you want to take a nap while everyone else is enjoying the outdoors, you can go inside the RV.
Some models even have separate bedrooms that will allow you to close the door. That means that other people can be inside the RV with you and you can still have privacy. That kind of arrangement isn't happening within a tent.