October is here, and Halloween is upon everyone. The early weeks of the month are setting up for the holiday, which will be filled with candies and snacks that aren't so healthy. While many children and kids at heart look forward to gorging on all the sweet things, overloading on sugar can be harmful.
That's not saying you should deprive your children. Rather, there are alternatives you can create to give them a little something healthy in between sugary bites.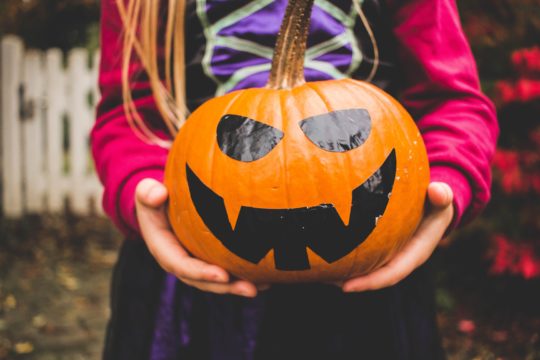 An age-old trick to making children (or even adults) eat healthily is to create foods that look fun and interesting. The great thing about Halloween is that it's almost expected for food to fit in with the theme. Therefore, it gets easier this time of the year to disguise fruits or veggies kids don't usually eat in snacks and other treats. Check out the ideas below.
Frozen Banana Ghost Pops
Although this recipe involves a banana smothered in white chocolate, it is certainly healthier than anything straight-up candy. Since it's easy to make, you can make it together with children and have it a fun Halloween activity for the kids.
Jack-o'-Lantern Salmon Sushi Balls
What's cuter than a completely edible jack-o'-lantern? This recipe calls for Japanese-inspired sushi balls decorated with salmon and delicately cut nori pieces to make the faces. It may look intimidating to make at first, but this detailed video will teach you the steps.
Speaking of snacks inspired from Japanese cuisine, the country loves Halloween and is dedicated to the holiday. In fact, seasonal snacks and limited candies come out during this time of the year. In case you miss out on those, there are staple treats that you can find there the whole year round.
Peanut Butter and Marshmallow Apple Smiles
Apples are plenty in the fall, and you can make your kids enjoy more of the apple's yummy goodness by transforming it into a fitting Halloween snack. Apple smiles are easy to make, and they only require two other ingredients: peanut butter and marshmallows. The marshmallows should be small enough to resemble the teeth, and the peanut butter acts as the glue to hold them in place.
Creepy Spider Cheese Balls
Cheese contains several vital vitamins and minerals like calcium and protein, which can be beneficial to growing children. A great way to incorporate more cheese in your children's diets this month so they'll get the taste for it is to turn it into spider cheese balls. You can use any soft cheese you like, but make sure that it is moldable.
According to this recipe, the key to making the cheese balls look creepy is by covering them with black sesame seeds and adding cut pretzel sticks as legs. You can incorporate herbs and other healthy ingredients in the cheese mixture according to taste. This snack idea is also a hit among cheese-loving adults, so it's great for grown-up Halloween parties too.
Jack-o'-Lantern Veggie Pizza
You can never go wrong with a pizza at a party, and you can certainly make this crowd-pleaser dish healthier by creating it from scratch. Premade crusts tend to have additives and preservatives that aren't necessarily healthy. Additionally, in the spirit of Halloween, you can get away with not using the normal pizza ingredients. In the name of making it look more festive, use colorful veggies.
This recipe yields one jack-o'-lantern pizza and uses broccoli for the stem and edges, olives for the mouth and nose, and shaved carrots to fill the rest. The cream cheese underneath will serve as the glue for all the veggies. This interesting party food will certainly have your kids looking forward to more vegetable pizzas in the future.
Mini Bat Peanut-Butter-Cup Treats
Healthy doesn't mean forgoing chocolates or sweets entirely. If you observe proper proportions, having candies in moderation can be good for everyone occasionally. For this recipe, make sure to use mini peanut-butter-cup candies so the serving is just right.
You'll also need thin chocolate sandwich cookies that are sliced in half to serve as the wings of the bat. You'll also need frosting to glue them and the edible eyes to make the treats look more animated.
What are your favorite healthy Halloween recipes? Share them in the comments below.