When decorating a place, walls are often ignored. People let go of the vertical space and start filling up the floor space, which makes the proportion for the decor look all wrong. The floor looks cramped, and the clutter draws your eyes to the floor.
Even if you have tall, beautiful walls, they will be ignored. To tie the room together, it is important to pay attention to the walls as well. Walls are often used to create a statement or a center of focus in the room. Accent walls have become very popular recently.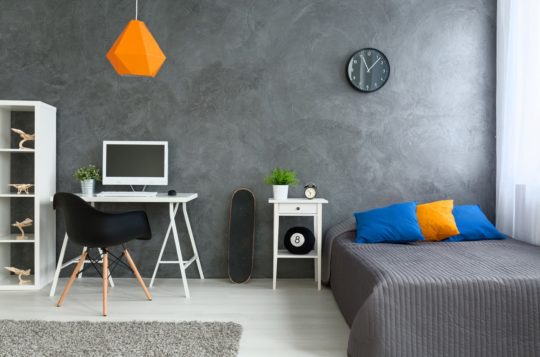 Spicing up your living room walls is also one of the easiest ways to re-do your space and give it a new vibe. What you choose to put up on the walls, doesn't need to be only decorative, you can add function and storage as well.
Decor
Spice Up the Living Room Walls
There are lots of DIY tutorials available on the internet, and you can use those to learn how to add some flavor to your living room without emptying your pockets. Use bold colors to create patterns on lighter paint by using home-made stencils. 
You can even paint the furniture in your living room to create a more coherent design and change the overall vibe. You can buy stylish decals from online merchants or have some stencils from A Maker's Studio painted to adorn one of the walls, and that will make your living room look fancy and expensive.
Neon Wall Signs
Neon wall signs are a great way to attract attention in any retail space. By combining eye-catching visuals with strong branding, they can draw customers inside businesses while creating a lively, unique atmosphere. They bring an artful touch to any display and can help businesses outshine the competition.
Neon wall signs are not only stylish and dramatic – they're incredibly durable, with long lifespans that keep their bright colors glowing for many years. Some versions can be dimmed or switched on and off at the flip of a switch, making them even more energy efficient and cost-effective than alternatives such as LED lighting or regular bulbs.
Buy Artwork from Online Merchants
Everyone wants their living room to look expensive and beautiful. Framed art is a staple of nearly every beautiful home. A couple of those can set the tone for the whole space. 
Instead of buying art from galleries and exhibitions, consider buying art directly from artists from websites like Society6, eBay, or RedBubble or ElephantStock, where you can find them for as little as $25. 
Art doesn't need to be expensive to be beautiful, and this can be a really effective way to reduce the cost of decorating your living room.
Decor + Function
Wall Storage
When you have a small space, every corner is important in terms of storage. Instead of getting bulky furniture that sits on the floor, you can choose sleek and modern designs that can hang on the wall.
Shoe storage or file cabinets in the accordion-style are popular for taking up less space and providing you with much-needed storage. They also look add to the vibe with clean lines and sleek vibes.
Floating Bookshelves
Floating bookshelves are another way to add storage and decor to your wall. It doesn't have to be a bookshelf if you do not read, you can just use the shelves to display your prized possessions that you would like to show off and that can add to the decor of the room.
Final Thoughts
Your wall doesn't have to stay bare or doesn't have to just be decor; you can add function while at it. Make smart choices and combine function, storage, and design to glam up your walls to make your room shine.