Are you feeling hungry? Is the social distancing days also making you feel distant from the familiar smell of cookies at your favorite bakery? Do you crave them badly?
Worry not! Here we have brought three simple recipes to help you make some lovely and delicious cookies at home.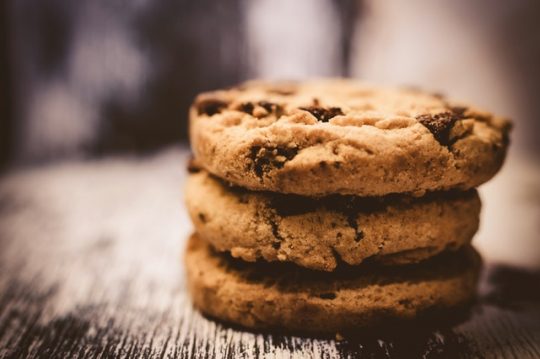 Choco-chip Cookies
To make this age-old favorite cookie, you will need the following ingredients:
5 Tablespoon Melted Butter
1/2 Cup Powder Sugar
1 Teaspoon Vanilla Extract
1 Cup All Purpose Flour
1/4 Teaspoon Salt
1/2 Teaspoon Baking Powder
A Pinch Of Baking Soda
3 Tablespoon Liquid Milk
1 Tablespoon Chocolate Chips
Directions to bake:
First, mix butter, sugar, and vanilla extract in a container.
Next, add flour, salt, baking powder, baking soda, and milk to it.
Mix all the ingredients properly and make it into a dough.
Knead the dough but not too much.
Once you are done with kneading, make a small portion from it and flatten it into your palm.
Sprinkle the choco-chips on the top.
Place the dough in a mold and put it into a preheated oven.
Bake the cookies at Celsius for 10-12 mins.
Once baking is complete, let the cookies cool down completely.
The choco-chip cookies are ready to be munched!
Shortbread Cookies
This is really simple to make, and you can experiment with any shape or form once the dough is ready.
Ingredients:
50 G Sugar
100 G Butter (Or Margarine)
150 G Flour
1 Tbsp Cocoa Butter (Optional)
Directions for preparing:
To make a plain dough, first, beat sugar and butter in a bowl with a mixer till fluffy.
Sift the flour and mix.
For the chocolate dough – switch 1 tbsp of flour with 1 tbsp of cocoa powder.
Chill the dough in the fridge for 2 hours.
Form the cookies by using any shape you want to try out.
Bake at 190-degree Celsius for 10-12 mins.
The cookies are ready to be served!
Egg Coin Cookies
For this recipe, you will need:
3/4 Cups Of All-purpose Flour
1/2 Teaspoon Baking Powder
Two Eggs
5 Tbsp Castor Sugar
2 Tbsp Melted Butter
1/2 Teaspoon Vanilla Essence
One Pinch Of Orange Food Color
Butter Paper
Baking Tray
Directions:
Mix the flour and baking powder in a bowl.
In a separate container, add the eggs and sugar and beat it gently.
Now add melted butter, vanilla essence, and food color into the egg mix.
Start adding the flour mix into this, gradually, and keep beating for all the ingredients to mix properly.
After the mixing is complete, your batter will be ready.
Take a piping bag and fill it up with the batter.
In a baking tray greased with butter, spread the butter paper.
Now using the piping bag pour the batter into small oval shapes.
Bake the cookies in a preheated oven at 150-degree Celsius for 20 minutes.
Your sunny cookies are ready for tasting!
Final Words
Remember what Martha Stewart said,
" I think baking cookies is equal to Queen Victoria running an empire. There's no difference in how seriously you take the job, how seriously you approach your whole life!"