It is the dream of every girl to look gorgeous and you probably have invested in a variety of products with the expectation that they can enhance your beauty. Getting beautiful has never been so convenient! Lilyhair makes it easier than ever for girls to transform your look with a complete collection of hairpieces for women. Girls can add volume to hair instantly, try different hair colors without dyeing your natural hair and experience varied hair styles. 
What kind of hair do they use?
100% virgin human hair is used in all of their hair products- that's so amazing! Virgin hair, also called unprocessed remy hair, is considered to possess the highest quality because it is the purest hair. Virgin hair is from the same donor, has never undergone chemical processing such as dyeing, bleaching and blow-drying and mechanical processing, and all the hair strands follow the same direction with cuticles that are kept intact.
There are two other types of hair apart from virgin hair- remy hair and non-remy hair. Remy hair follows the same direction with cuticles intact like virgin hair, but the difference lies in that remy hair has undergone chemical processing. Service life of remy hair is between 6 months and 10 months, which is shorter than that of virgin hair. As for non-remy hair, the quality is the lowest as it is collected from different donors. The hair could tangle easily within a short period of time because the hair comes in different directions with roots and tips that are mixed up together.
Quality of hair products is closely associated with cuticles which can lock in moisture and make hair look shiny. Cuticle direction is extremely important as hair will not get tangled or shed easily with cuticles aligned. Virgin hair is like our own natural hair that is healthy and shiny and will not get tangled or shed easily. That's why virgin hair is the most expensive.
Advantages of virgin hair:
Do not tangle easily
Do not shed easily
Require low maintenance (its service life can reach up to 2-3 years if properly cared for)
Be able to style the hair like natural hair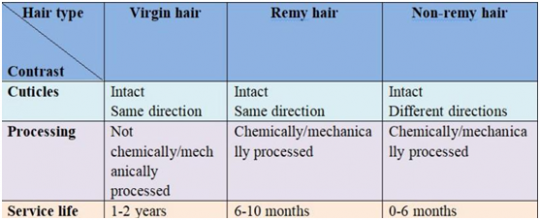 It's not easy to look for an online store selling hair products that are made from 100% virgin hair. In order to help women who expect to enhance beauty or combat thin hair, Lilyhair has launched a complete collection of hair products including hair extensions, toppers and wigs, all of which are made from 100% virgin hair.
Clip-in hair extensions are quick and easy to use
Among various hair extensions such as clip-in, halo and tape in hair extensions for thin hair, clip-ins are the best ones that allow women to have longer and thicker hair right now. With clips, wearers can blend extensions with natural hair with ease, without worrying that the extension will be detected. Clip-ins are quick and easy to use, so they are suitable for both professionals and beginners. Thanks to the creative design, clip-ins do not cause damage to natural hair, which is why they are preferred by lots of girls.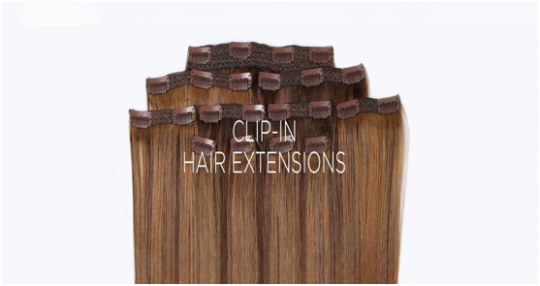 Does it take long to apply?
It takes about 5-10 minutes to apply all the pieces. Only 3 steps are required to apply:
Step 1: Section off hair at the crown and make a ponytail
Step 2: Take the big 4-clip weft, and clip it into your hair by starting from the middle clip
Step 3: Put down a layer of hair, and take other wefts based on your needs and repeat Step 2
What are the benefits of clip-in hair extensions?
They are the ideal options for beginners since the application process can be finished with a few snaps. They can be applied and removed anywhere anytime and are quick to use because no external help is needed. What you only need to do is separate your hair and apply the wefts. Without going to salons, you can add hair length and volume within minutes. Furthermore, clip-ins are damage-free because no glue and no fusion is needed for application, and this is why clip-ins are the most popular ones.