Sounds strange I know. Those outside my family look at me strange when I say we're having pepperoni soup for dinner.  It was something that seemed like a special treat when I was growing up.  It's something that my own family has grown to love and in fact Sabreena asked to have it for her birthday dinner last week.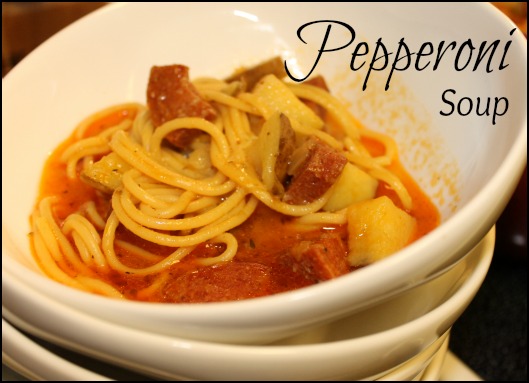 It's very simple to make with very simple ingredients, most of which I have on hand. It can be made very quickly or left to gently simmer to develop more flavor. This is truly a one pot meal but prepared in steps.
Pepperoni Soup
Author:
Prep time:
Cook time:
Total time:
Ingredients
1lb of pepperoni or salsichon (traditional Spanish sausage)cut into bite size cubes. I usually ask my deli to cut me a 4″ slab of pepperoni then cut it down myself to size.
2 bayleaves
1 medium onion, finely chopped
3 garlic cloves, finely chopped
1tsp pepper
1tsp Adobo Seasoning
1tsp dried oregano
1 packet of Sazon
12 cups of water
1lb russet potatoes, peeled, cut into 2″ chunks
6oz spaghetti or rigatoni
Instructions
In a large pot brown and render off cut up pepperoni for 10-15 minutes.
Add chopped onion and cook till softened.
Mix in garlic and seasonings and cook for additional 5 minutes before adding water and potatoes.
Bring soup to mixture to slight simmer and cook until potatoes are firm but cooked.
Increase heat to bring soup to boil and add pasta.
Soup is ready to eat when pasta is cooked. Salt and pepper if needed.
Don't forget to remove bay leaves.
We use this in lots of of our meals. It adds a little something special to soups, sauces, meatloaf, roasts and rice.  When I mention Adobo seasoning i'm not talking about the peppers in adobo sauce I'm talking about this Adobo. I recommend Light with Pepper. Another magic ingredient that adds a special touch to everyday meals.