So this isn't exactly our travel adventure, but still an interestingly exciting travel idea for those out there who want to mix it up a bit in the future.
If you're anything like me you love going on holiday but worry about the environmental impact of traveling.
Flying, in particular, increases our carbon footprint by a massive amount. This year I decided to stay close to home and check out some eco-friendly holiday ideas.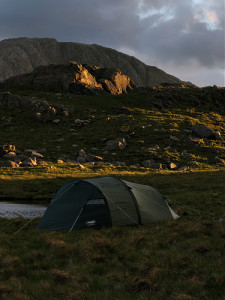 Camping is, of course, the easiest way to get away without spending a lot of money or doing harm to the environment. Responsible campers always take all their rubbish home with them, make fires in stone pits or raised off the ground rather than on grass and respect any animals they may be sharing space with.
I went camping in the Lake District, the Yorkshire Dales and the Pennines this year and had a fabulous time. There are so many wonderful places to explore, plus in the summer months there are loads of activities you can participate in such as canoeing and wind surfing.
After I spotted all the equestrian gear for I needed for myself and these mens cowboy boots online at Equestrian Clearance for the hubby, I knew I had to plan a little adventure trip for us, so I booked a horse trail holiday in Wales.
As I used to ride horses when I was younger I was confident in booking the guided tour. The husband and I, plus a group of 6 others plus an experienced guide were taken on a six-day adventure around the Welsh hills.
We stayed in some amazing local inns overnight and got to see so much beautiful scenery. Even total beginners can experience a horse trail adventure – the weekend packages are designed to teach you the basics as you ride out.
Next summer, I am planning to spend six to eight weeks cycling through Europe with a friend.
We will be aiming for Holland, the cycling capital of the world, but plan to take our time travelling through France and Belgium. Depending on how long it takes us we may then head over into Germany.
Now we have the Euro-tunnel we can do the whole trip without using any form of fuel for transport apart from our own strength. We will be training hard all winter in preparation but it will be worth it I'm sure.
Guest Post by Sharah
camping image courtesy Phil and Pam via Flickr