If you like games like charades or hangman Listen Up is going to be the fix you need that you can play right on your iPhone, iPod Touch or iPad.
Recently I was asked to review Listen Up which I was able to download from the AppStore for free.  They also have a regular version for $0.99.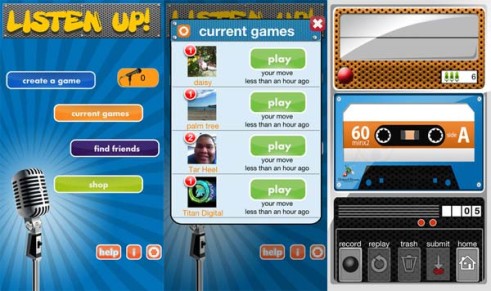 Ok, so for those of you who have never heard of Listen Up just like me let me explain.  It's an audio based game where you guess and record sound bites with friends.  You are given three different words with three different difficulty levels: easy, medium and hard. Each leave is assigned a different amount of microphones(the harder the word, the more mics are won) that you are able to use to unlock very funny visual aids to use as clues.  You choose what word you want and you have 5 seconds to record a sound bite for your friend to use in order to guess the word, pretty simple.
To get started you need to setup a FREE user account where you will need a user name then you can play games with other friends, friends on Facebook or the game will just choose random people for you to play with. The random mode is what I used to get started and it was a lot of fun and harder then I thought it would be. When you are recording the words the game seems simple but not so simple when you actually need to guess the word.
Below is a nice video to explain a little more JUST in case I missed anything:
So if you are looking for a fun word game that you can take with you on the go head over to the AppStore and download Listen Up today.