I've been seeing them for years; different colors, scented, mixed with herbs and flowers. I'm talking about Homemade play dough. I consider myself pretty crafty but this isn't something ever attempted on my own. I was always intimidated. This week after seeing a couple more gorgeous activities and simple recipes I knew we had to give it a try.
I used the simplest recipe I could find.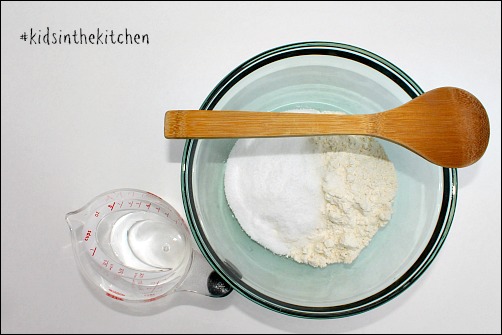 1 1/2 cups flour
1/2 cup salt
1/2 cup cool water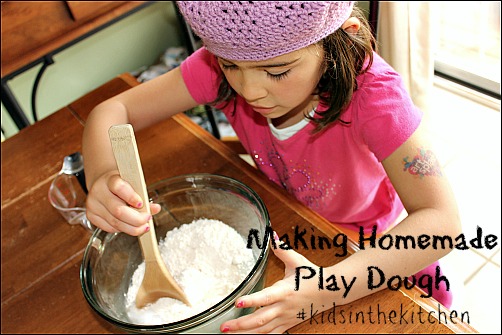 I added the flour and salt to a bowl and let Shae add the water and mix mix mix. It took her about 10 minutes to get everything incorporated enough to turn out onto the table. She played and rolled and kneaded, creating different shapes and designs. She ended with a strawberry and star. The next step is to bake them and paint them.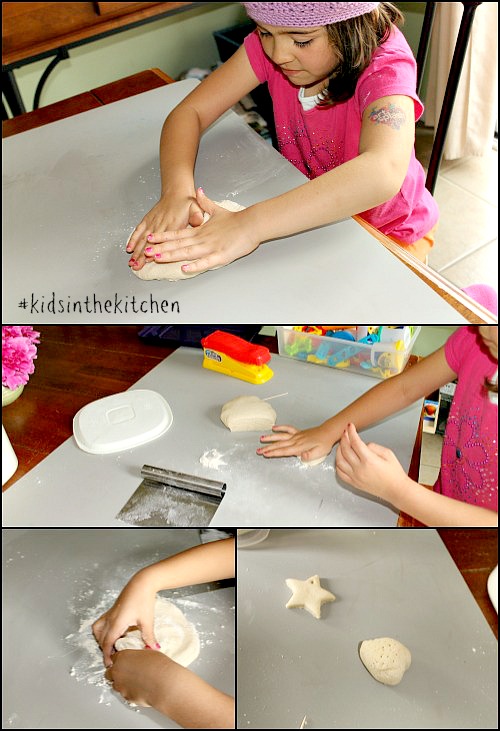 Playing with play dough is a great way to let little hands explore. It's a fantastic medium for endless ideas like jewelry, ornaments, figurines and more. Trust me this process was simple, the cleanup of the table afterwards was way more work.
Did you have fun in the "kitchen" this week? Did you try a new food or a new kid friendly restaurant? Did your littlest ones use their snacks to count to 10? We invite you to share your experiences, photos, stories or recipes that include your #kidsinthekitchen.
Come join me and my co-hosts, Paula at Frosted Fingers and Sara at Sensibly Sara, each week linking up a post, new or old, that feature the theme Kids in the Kitchen. It doesn't matter what you are doing as long as you are doing it together, enjoying it and learning something along the way.
preparing healthy snacks
having a tea party
discovering a local restaurant that your kids love
creating new family friendly recipes
Don't have a blog? Share an instagram photo or Facebook update.