Since the kids aren't in school they have way more opinions about what kind of meals and snacks they should be eating throughout the day. During the school year they eat what is packed for them or what school is serving them.


I'm really liking most of their input especially when they can get it themselves. The kids love making their own trail mixes. Shae raided the pantry to come up with this concoction
Chocolate Chips
White Chocolate Chips
Cinnamon Chips
Raisins
Yogurt Covered Raisins
Chocolate Covered Raisins
Chex cereal
Cranberries
Nuts (cashews, almonds, honey roasted peanuts)
Pretzels
Mini Graham crackers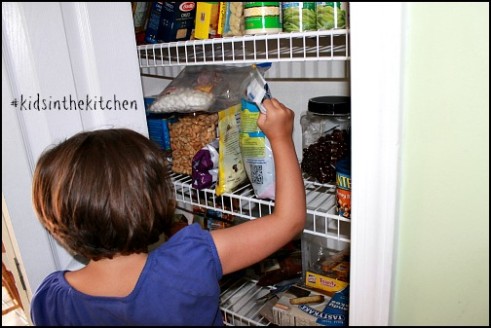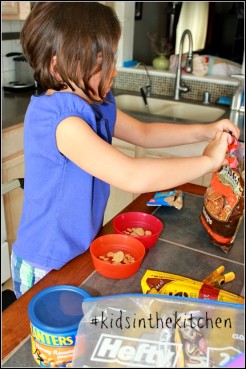 The ingredient list may sound like a lot but she only added a little bit of each but also tailored the mix to suit her brother. While I would prefer this mix to have MORE dried fruit sans the chocolate coating it's really a great mix of flavors and textures while still being healthy and satisfying.
Did you have fun in the "kitchen" this week? Did you try a new food or a new kid friendly restaurant? Did your littlest ones use their snacks to count to 10? We invite you to share your experiences, photos, stories or recipes that include your #kidsinthekitchen.
Come join me and my co-hosts, Paula at Frosted Fingers and Sara at Sensibly Sara, each week linking up a post, new or old, that feature the theme Kids in the Kitchen. It doesn't matter what you are doing as long as you are doing it together, enjoying it and learning something along the way.
preparing healthy snacks
having a tea party
discovering a local restaurant that your kids love
creating new family friendly recipes
Don't have a blog? Share an instagram photo or Facebook update.

Subscribe to our weekly reminder email so you don't miss the fun the going on each Friday on #KidsintheKitchen