I am a member of the Collective Bias®  Social Fabric® Community.  This shop has been compensated as part of a social shopper insights study for Collective Bias and its client.
Shaun loves his Xbox 360 and plays it every single chance he gets so I am really excited for Christmas morning so I can see his face when he opens up his brand spanking new Xbox One and Forza 5.   I must admit that I'm also pretty excited for him to open up his Xbox One so I can hook it up and him and I can play Forza Motorsport 5 together.  Shaun and I have been playing Forza 4 together on the Xbox 360 and I know we are going to love playing Forza 5 together with the new graphics on the Xbox One.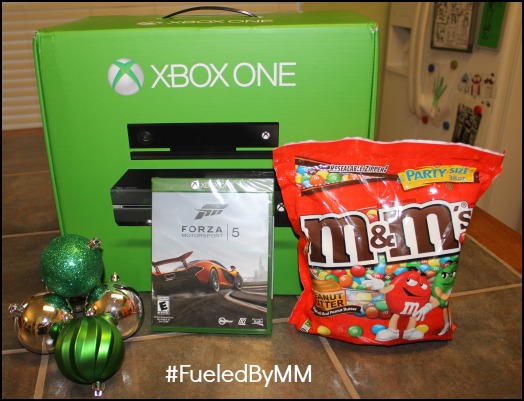 Melinda and I went to our local WalMart last night and picked up Forza Motorsport 5 and while we were there we also picked up a bag of Peanut Butter M&M's as well as a ton of other stuff.   Shaun loves candy almost as much as he loves Xbox (just like his father, LOL) so we are going to wrap up the M&M's as well and put them under the tree.  I can see him now on Christmas morning playing his Xbox and eating M&M's, LOL.  That is what I snack on when gaming or watching TV so who can blame him for wanting the do the same plus it's Christmas so we'll give his a pass on eating candy so early in the morning.
Christmas is 10 days away and thank goodness for that because I have been wanting to give Shaun his Xbox One since I picked it up on Black Friday.  Thankfully Melinda stepped in otherwise Shaun would have nothing else to open on Christmas except for his M&M's, LOL.
Come on Christmas. I am patiently waiting for you but I must admit my patients are wearing thin as I am overly excited for the 25th to arrive.
One cool thing that WalMart is doing is called Buy, Snap and Redeem.  It's a pretty cool promotion and here are the details:
Buy Forza 5 game
Buy participating M&M's products (+ Participating products include: M&Ms Peanut 42oz Stand Up Pouch, M&Ms Milk 42oz Stand Up Pouch, M&Ms Peanut Butter 38oz Stand Up Pouch, M&Ms Pretzel 30oz Stand Up Pouch, M&Ms Peanut 19.2oz Large Laydown Bag, M&Ms Milk 19.2oz Large Laydown Bag, M&Ms Peanut Butter 18.4oz Large Laydown Bag, M&Ms Pretzel 15.4oz Large Laydown Bag.)
Snap a photo of qualifying items on the receipt on your phone and text it to 811811
Redeem:  You will receive a text back with a reward code valid for a $10 eGift card to Walmart.
I like that Walmart is texting back a $10 eGift card just for buying the game and M&M's.  I love gaming, M&M's and we shop at Walmart ALL of the time so to me this is a win win.  I took a picture of my receipt last night showing my purchase of the M&M 's as well as Forza Motorsport 5 and I text it over to 811811 and within minutes I received a text back saying that my receipt has been submitted for processing and that I can expect a confirmation text within 48 hours, sweet.
So now I will just sit back and wait for my $10 eGift card for Walmart to arrive.  I am sure that once I do receive it I will just spend it on either more Xbox stuff or more M&M's either way it's $10 well spent.
Also be sure to participate in the Pixel Art Instagram competition.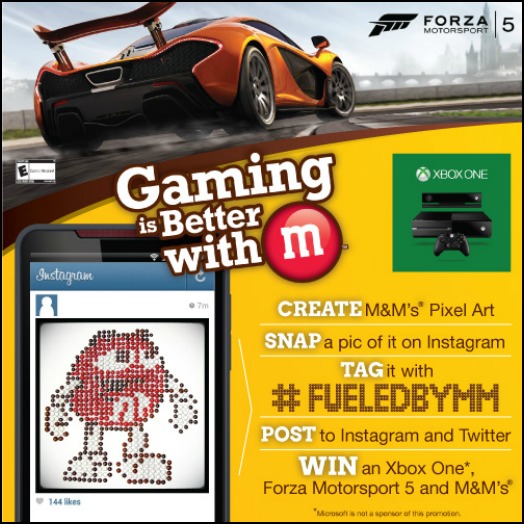 In order to participate, create your own Pixel Art using M&M's (R) candies and snap an Instagram Photo.   It should be video game and/or racing inspired to celebrate the launch of the new game Forza 5 (think your favorite characters, race cars, car logos, game symbols, weapons, gaming systems etc). Be creative and have fun!
Tag your image with #FueledByM AND #Contest and post the image on Instagram and Twitter. You can enter up to 3 times per day!!!!
One lucky Pixel Artist will win a new Xbox One and Gaming is better with M pack including the Forza 5 Motorsport game and a 14 oz bag of M&Ms(R).  Contest runs Dec. 4th – Dec. 18th and winner will be chosen at random.
Here is my work of art that I submitted for the Pixel Art Instagram Competition.